When Road Rage Becomes Particularly Dangerous: Tangling with Big Rigs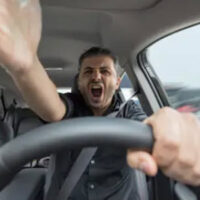 We've all experienced a bit of frustration on the road when we're in a hurry and traffic just doesn't seem to cooperate.  For some, it can sometimes lead to dangerous behaviors, like weaving in and out of traffic, tailgating, and accelerating rapidly, only to have to abruptly brake moments later.  In the rush to maneuver through slow-moving traffic, drivers often risk the safety of themselves and other motorists by treating the 2,000 pounds of steel and rubber in their control almost like a weapon.  The perils are real enough with passenger vehicles, but when an impatient motorist mingles road rage with a big rig that outweighs their own vehicle by six or seven hundred percent, the potential problems can be devastating.  Typical commuters, as well as the drivers of tractor-trailers and other large commercial vehicles, are entitled to a safe, courteous experience on Maryland highways.  In the event you've been exposed to less than that, and it has resulted in serious injuries, you may wish to seek the advice of a local personal injury attorney.
What Truckers Wish Drivers Realized 
Truckers surveyed complain that courtesy on the road is nothing more than a pipe dream these days.  As lanes merge and vehicles are forced to take turns moving forward, all courtesy goes to the wayside, especially when it comes to dealing with massive trucks.  Who in their right mind, after all, would ever choose to get trapped behind a big rig on the highway?  So, as motorists speed up in order to squeeze ahead of eighteen-wheelers and other commercial trucks, they often cause serious issues for truck drivers, who wind up slamming on the brakes in order to avoid a collision.  This, in turn, can lead to big problems:
The trucker's load could shift, causing an imbalance that could lead to a rollover;
The trucker could lose control of the vehicle as it veers out of the way of merging traffic, causing a collision;
The truck's braking system could malfunction, leading to a skid into other vehicles or nearby objects.
These are precisely the types of challenges that face truckers every day as they struggle to control several tons of machinery while oblivious drivers dart to and fro in their paths.  And there are plenty of examples to prove it.  Just one such incident involved a tractor-trailer that flipped over after the driver of an SUV decided to take it upon himself to slow the big rig down.  He pulled in front of the rig and applied the brakes, causing the trucker to lose control of his vehicle and overturn.
Contact Us Today for Help 
Has reckless, careless, or aggressive driving of another motorist landed you in the hospital?  At the Law Office of Hasson D. Barnes, our Baltimore truck accident attorneys understand your predicament:  physical injuries, escalating hospital bills, and no salary coming in while you're laid up.  What you need now is a tough legal team to fight for justice on your behalf.  Give us a call in our Baltimore office today.  You'll be surprised at what we can do to help!
Resources:
wbaltv.com/article/wild-video-road-rage-confrontation-results-in-tractor-trailer-flipping-over/22860226
jacksonville.com/news/2017-01-01/truckers-road-rage-getting-worse-not-better