Will Reopening the Economy Justify Personal Injury Lawsuits?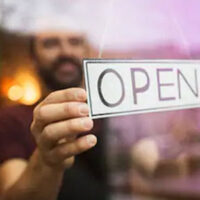 As of May 5, 2020, the majority of people in the US were not in favor of reopening the economy in the wake of the Coronavirus, according to a Washington Post-University of Maryland poll.  Over half of citizens are currently uncomfortable taking care of basic necessities, such as grocery shopping, while nearly 70 percent report discomfort at the idea of retail shopping, and 78 percent would not feel safe dining in a restaurant.  That being said, businesses across the country are starting to reopen, putting employees face to face with those patrons who are chomping at the bit to be out and about.  With more contact coming our way, it is reasonable to assume that more cases of COVID-19 will be popping up.  Is it also reasonable to assume that personal injury cases will see a rise?
Maryland Reopenings 
While the governor has already allowed for a number of outdoor recreational activities to resume, the majority of non-essential businesses remain shuttered.  Governor Larry Hogan is looking for continued drops in hospitalization rates in order to proceed with additional lower-risk openings in Stage 1.  Those would lead to even more openings in Stage 2 if no spikes associated with the virus occur.  By Stage 3, restrictions on restaurants with higher capacity would ease, as well as those related to entertainment venues, religious gatherings, and nursing homes.
Concerns Linked to Reopening 
As much as we all want to get back to normal and try to retrieve our economy, there are a number of legitimate concerns associated with having people out and about in large numbers:
What steps will businesses put in place in order to ensure the safety of workers and customers?
What types of protective gear should be worn in various businesses, and is that gear available and affordable?
As safety standards are rolled out, how will customers know whether or not a particular business is adhering to those standards in full?
How can the state provide & enforce clear, accurate guidelines & policies to the public, as well as to businesses, in order to enhance safety?
How can the state address the issue of asymptomatic cases of COVID-19 and the spread of the disease by unwitting individuals?
What degree of liability will companies have in the event sickness or death is traced back to their organization?
Voting Woes 
Although Maryland allows online voter registration along with no-excuse absentee and early voting, there are still those who prefer to cast their ballot in person. With the presidential election just around the corner, should in-person voting still be permitted? We know that in recent elections in other states, voters and poll workers alike became ill with coronavirus. If in-person voting is not allowed, what needs to take place in the immediate future to prepare for the change?
Policy Makers Should be Held Accountable 
It seems reasonable to think that if an individual experiences harm or death due to decisions made by policy makers, whether at the corporate level or in the government, their feet should be held to the fire.  If COVID-19 strikes you due to workplace negligence or poor enforcement of safety policies, the office of Baltimore personal injury attorney Hasson D. Barnes is here for you.  Contact us today to schedule a confidential consultation.
Resources:
wusa9.com/article/news/health/coronavirus/maryland-phase-reopening-8-things-you-can-do-again-in-the-state/65-438c2fac-71ab-4e4b-87ac-f59d4d3ef13c
washingtonpost.com/politics/americans-widely-oppose-reopening-most-businesses-despite-easing-of-restrictions-in-some-states-post-u-md-poll-finds/2020/05/04/495ddc3a-8e36-11ea-9e23-6914ee410a5f_story.html
https://www.hbarneslaw.com/loose-loads-are-a-hazard-on-maryland-roads/