Loose Loads are a Hazard on Maryland Roads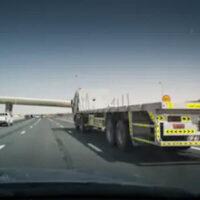 It probably wouldn't surprise most people to hear that road debris causes a lot of accidents across the country.  In one study of a three-year period, in fact, over 200,000 collisions occurred as a result of foreign objects on the road.  Those crashes led to nearly 40,000 injuries and 500 fatalities across the country.  In 2016 alone, over 90,000 crashes led to nearly 700 fatalities and upwards of 20,000 injuries.  These numbers are a clear indicator that every individual who chooses to transport materials in or on their vehicle needs to make a serious effort to secure loads securely. If stray items along a road lead to a collision that causes harm to you or a loved one, it might behoove you to have a local personal injury attorney by your side.
Facts Worth Knowing 
Certainly it's no wonder that when objects appear unexpectedly on the road, alarmed drivers frequently wind up in trouble:
Over one-third of all fatalities related to road debris occur because a driver swerved to avoid hitting the object;
More than thirty percent of these incidents take place between 10:00 and 4:00, the most common hours for people to transport items like furniture or equipment;
Collisions related to road debris occur most often on Interstate highways, where high speeds affect the frequency of items becoming detached;
Roughly two thirds of such incidents are directly correlated to improper vehicle maintenance and/or improperly secured loads.
Common Debris issues 
While many items may appear randomly along a road, certain debris is particularly common:
Actual vehicle parts that fall off of a vehicle, such as a tire, hubcap, or wheel;
Cargo that is being transported, such as appliances and furniture;
Trailers that become detached from the vehicles that are hauling them.
Prevent Loose Loads 
The truth is, more often than not taking the time to properly secure a load and keeping vehicles properly maintained is all it takes to prevent these kinds of incidents.  Drivers who are hauling items should take basic steps to prevent tragedy:
Use straps and/or cargo containers that are specifically designed for securing loads;
Use a tarp to cover items that are light and might be swept away by wind;
Double check latches. Hitches, and ties;
Don't over pack items;
Pack items evenly to avoid shifting loads;
Avoid high speeds and heavy traffic.
Following a Collision 
In the event you experience a collision as a result of another driver's failure to properly secure a load or maintain a vehicle, you may be facing significant expenses related to property damage and medical bills.  At the Law Office of Hasson D. Barnes, our Baltimore personal injury lawyers have the experience and determination to fight for justice on your behalf.  Contact our office to schedule a confidential consultation today.
Resources:
newsroom.aaa.com/2016/08/american-drivers-arent-securing-loads-road/
patch.com/maryland/baltimore/mdta-police-lookout-drivers-unsecured-loads
https://www.hbarneslaw.com/was-a-loved-one-harmed-in-a-nursing-home-due-to-medication-errors/