Tractor Trailer Accidents Are Serious Business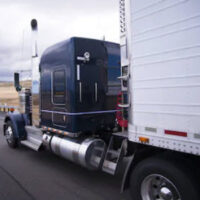 When you think about the sheer weight of a tractor trailer, you know that any collision involving one is going to have horrific consequences.  Here in Maryland, these accidents are far too common, resulting in property damage, injuries, and loss of life.
Just a Few Summer 2021 Incidents in Maryland 
When a Volkswagen Jetta failed to yield while making a turn on Route 301, a tractor trailer smashed into it, killing the driver at the scene.  In this case, trying to make that quick turn simply didn't give the oncoming driver time to avoid the collision.
The 19-year old passenger in a BMW that crossed a lane and crashed into the back of a tractor trailer died after the BMW bounced off the big rig and collided into the median guardrail. Three others, including the driver of the rig, were hospitalized.
A pedestrian was killed after being struck by a tractor trailer in Howard County on I-95.
A pickup truck and a tractor trailer crashed, possibly after the rig driver fell asleep at the wheel.  Neither driver suffered serious injuries, although the rig was overturned and closed lanes for several hours.
A Few Statistics 
Although large trucks account for only 4 percent of registered vehicles on the road, they are involved in 10 percent of all fatal collisions. That's over 5,000 fatalities annually, in addition to nearly 120,000 accidents resulting in injuries. The ratio of injuries for those in other vehicles compared to the truckers themselves in these accidents is well over 5:1.  And unfortunately, those numbers have been increasing over more than a decade. 
Preventing These Incidents 
What can you do proactively to evade these kinds of terrifying and dangerous accidents?  Some common sense tips might help:
Treat these rigs differently than other vehicles on the road. Understand that they need more time to slow down or come to a stop, so make sure you keep lots of distance between you and them.  Definitely avoid turning in front of them or cutting into the lane ahead of them.
Avoid their blind spots. If you can't see the driver in his mirror, he can't see you.
Be particularly careful when weather conditions are challenging.
Pay attention to posted speed limits.
Use your signal so others can anticipate your moves.
Make sure your vehicle is in good condition.
Be particularly cautious in work zones.
Make sure you are alert and focused on your driving.
Be patient and avoid road rage.
In the Aftermath 
Following an accident with a big rig, it would behoove you to enlist the assistance of a knowledgeable and determined personal injury attorney.  At the Law Office of Hasson D. Barnes, our Baltimore truck accident attorneys work aggressively for the best possible outcomes for you.  Contact us today for a confidential consultation in our office.
Resources:
fredericknewspost.com/news/disasters_and_accidents/overturned-trailer-closes-one-of-two-u-s-340-eastbound-lanes-shoulders/article_44a7d509-9dee-547b-af35-5328a1f3749c.html
washingtonpost.com/local/public-safety/keith-dickerson-killed-in-crash/2021/08/23/e2d9a646-043c-11ec-a654-900a78538242_story.html