The Problem With Bounce Houses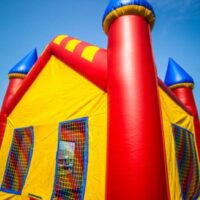 Who wouldn't want to play in a bounce house?  They're colorful, full of happy kids, and give youngsters the kind of active play so many parents fear has otherwise been replaced with screen time.  But parents should be advised: the perception that bounce houses are safe is 100 percent false.  That's according to a pediatric surgeon who knows what he's talking about.  In a study authored by Dr. Saeed Awan, it was reported that over 82,000 children experienced injuries in a four-year time frame—a number 14 times higher than the previous 4-year time frame.  What gives?
Key Findings 
As the demand for bounces houses has risen for attractions like school carnivals, birthday parties, and neighborhood gatherings, so, too have the number of accidents among children. Injuries are most often sustained by being hit by another bouncer, by falling out of the structure, or by getting a limb trapped and twisted while bouncing.  Here's what else we know:
Boys are slightly more likely to incur bounce house injuries than girls, at a rate of just under 54 percent.
Fractures lead the list of injuries, with about one in four hospitalizations requiring treatment for them, followed by strains and contusions.
Legs, feet and ankles were the most frequently injured body parts.
Concussions are roughly twice as likely among children older than six.
The majority of injuries—more than two-thirds– occur between May and October.
Risk Factors 
What makes one bounce house riskier than another? The lack of adult supervision is the greatest contributing factor to injuries. This tends to lead to overfilling the devices, often with children of different ages and weights, making them significantly more prone to accidents. Other issues include:
Improper setup, including being set up too close to power lines and trees;
Allowing younger kids—under six years old– with poor coordination in the devices;
Allowing kids to perform tricks like flips or somersaults;
Neglecting to remove shoes, jewelry, glasses, and other sharp items prior to bouncing.
High Winds
 The most severe and dramatic incidents often involve high winds that rip the bounce house tethers right out of the ground, sending the bounce house full of children spinning into the sky. Another issue relates to deflating bounce houses while, unbeknownst to adults, one or more kids is still inside. These kinds of events can result in serious injuries, and even death.
After a Bounce House Injury 
Has your child been seriously injured in a bounce house injury? If so, the importance of investigating the incident cannot be understated.  Was the event properly supervised?  Were proper rules being enforced?  Was the manufacturer responsible for selling a faulty product?  These questions and more will be addressed by Baltimore personal injury attorneys at the Law Office of Hasson D. Barnes.  Contact our office for a confidential consultation today.