Rear-End Collisions in Baltimore Area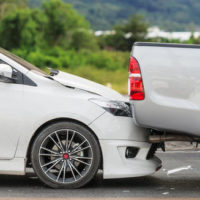 When a pick-up truck rear-ended another truck in Glen Burnie in December 2018, the result was not only damage to the vehicles. Two individuals were hospitalized due to injuries sustained in the collision.  Unfortunately, this was not an isolated incident.  According to the Washington Post, rear-end accidents are the most frequently occurring type of traffic accident, exceeding 1.7 million crashes each year across the country.  Those collisions lead to 500,000 injuries, and thousands of deaths annually.  If you fall victim to this type of accident and wind up in the hospital, seeking the guidance of a local Baltimore car accident attorney could be your best option.
What Causes these Crashes? 
It comes as no surprise that when drivers take their eyes off the road, a rear-end collision is much more likely.  The fact is, distractions that last even just a few seconds can lead to a serious crash.  Common distractions that occur millions of times every day include:
Eating and drinking;
Texting and dialing;
Reaching for something in a glove box, bag, or handbag;
Distractions related to other passengers and/or pets;
Distractions outside, like billboards, signs, scenery, and storefronts.
Driver error, in fact, is nearly always the key issue behind these types of collisions.  In some circumstances, the incident may be the result of driver fatigue or incapacitation.  In others, recklessness or road rage may lead to poor decision-making behind the wheel.  All too often, simply daydreaming or a driver's lack of focus on the road can be the reason behind a rear-end collision.
Here's what else we know about rear-end collisions:
They generally occur during daylight hours;
More occur on long, straight roads than on curvy roads or those with multiple intersections or stops;
Most crashes occur at relatively low speeds;
Following too closely is linked to some accidents;
Over 80 percent of collisions involve one vehicle that is at a complete stop.
Injuries Associated with Rear-End Crashes 
There are any number of injuries that may occur due to a rear-end collision, including fractures, lacerations, abrasions, concussions, and traumatic brain injuries.  Perhaps the most common type of injury, though, is whiplash.  What makes whiplash such a horrific problem is the fact that it may take quite some time for symptoms to appear.  Once they do show up, however, they may haunt a victim for weeks, months, or even years. As KTAR news reports, some of the problems many people report include:
Severe headaches;
Back, neck, or shoulder pain;
Abdominal swelling and/or pain;
Numbness in hands or feet.
Moving Forward 
If you or a loved one has suffered serious physical impacts as a result of a rear-end collision, you deserve a compassionate, diligent, and knowledgeable attorney fighting to get you the best possible results. At the Law Office of Hasson D. Barnes, LLC, you'll get nothing less.  Contact our Baltimore office today to schedule a confidential legal consultation.
Resources:
ktar.com/story/605000/7-delayed-injury-symptoms-after-a-car-crash/
patch.com/maryland/glenburnie/driver-trapped-when-2-pickups-collide-i-97-fire-officials
washingtonpost.com/news/dr-gridlock/wp/2015/06/08/there-are-about-1-7-million-rear-end-collisions-on-u-s-roads-each-year-heres-how-to-stop-them/?utm_term=.e07429f1048d