Pedestrian Accidents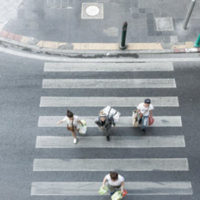 When we cross the street in the crosswalk, we generally think we're going to make it to the other side without incident.  That was not the case for one individual, who was crossing Coastal Highway one Monday evening in July 2019, only to be struck by a drunk driver who plowed through the crosswalk while making a turn.  The victim was immediately hospitalized and the driver arrested on a $10,000 bond.  If you can relate to the horror of such an incident, a local personal injury attorney could be useful.
Vulnerability
Clearly, the safety of pedestrians, in comparison to a motor vehicle on the road, is negligible in a collision.  Across the nation, nearly 6,000 people lose their lives in pedestrian crashes annually, and roughly 130,000 wind up in emergency rooms.  Here in Maryland, the number of fatalities involving pedestrians hit 133 in 2018, up 16 from the previous year. That accounts for roughly a 14 percent rise.  Certainly, there were many more injuries beyond the deaths.
Age as a Factor
According to the Centers for Disease Control and Prevention (CDC), one in five pedestrian fatalities in this country involve seniors age 65 and older. Another 20 percent of deaths involve children aged five years old and younger.
Circumstances Related to Pedestrian Collisions
Where do pedestrian accidents typically occur?  The National Highway Traffic Safety Administration (NHTSA) provides the following insights:
Over one-fourth involve a pedestrian crossing outside a crosswalk at a non-junction;
Nearly 20 percent occur as pedestrians cross at intersections in the path of a vehicle moving straight;
Almost one in ten occur as left-turning vehicles pass through intersections;
Just over six percent involve right-turning vehicles in intersections;
Just under 20 percent of incidents occur when a pedestrian in a crosswalk;
The majority of collisions occur on roads with posted speed limits of between 25-35 mph;
Injuries tend to be more severe when collisions occur outside of junctions.
Factors Related to Crashes
A number of issues might contribute to an accident, including distractions, speeding, signal violations, weather conditions, and loss of control. In some instances, pedestrians dart into the path of a moving vehicle. Impairment is also a factor in a considerable proportion of collisions; nearly half of all pedestrian fatalities are a result of intoxication, either of the driver or the pedestrian:
13 percent of fatalities involve a driver with a BAC of .08 or higher;
Roughly one-third of fatalities involve a pedestrian with a BAC of .08 or higher.
Following an Accident
If you or a loved one has been the victim of a serious auto-pedestrian accident, you likely have your hands full dealing with the aftermath.  At the Law Office of Hasson D, Barnes, our experienced Baltimore pedestrian accident attorneys know precisely how to address your legal concerns moving forward. Contact us to schedule a confidential consultation where we will discuss damages to address medical costs, lost present and future wages, and more.
Resource:
baltimoresun.com/maryland/bs-md-traffic-fatalities-20190417-story.html