Maryland Drunk Driving Accidents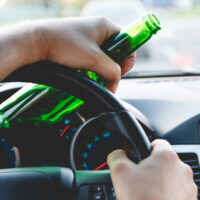 Drinking and driving cause more human suffering than mere words can convey. The damage to property, lives, and families lasts far beyond the night of drinking that occurred.  If you are a victim of a drunk driving incident, you would be wise to consult with a personal injury attorney about damages.
Tragic Account
Here's a story that's difficult to comprehend: a young man was responsible for a drunk driving accident that resulted in the fatalities of three of his own friends.  After the accident, he fled the scene on foot, and was captured with the aid of a K9 team.  At the time of his arrest, his blood alcohol level was double the legal limit. He went to prison, and upon release was put on parole.  Within three months, his ignition interlock was prohibiting him from attempts to drive while under the influence of alcohol.  Months later, his license was suspended.  But that didn't stop him from driving.  Ultimately he was picked up for driving without a license, insurance, or an interlock device.  He went back behind bars, this time for seven years, and, thankfully, before killing anyone else.
The Numbers 
The numbers tell the story of devastation across this state due to drinking and driving.  According to a 2106 Maryland Highway Safety Office report, over 130 fatalities and over 440 severe injuries result from drinking and driving in the state every year.  That's nearly 600 families directly impacted by drunk driving.
Interventions to Reduce Accidents 
The goal to eliminate—or at the very least, reduce drunk driving incidents –is shared by stakeholders across the state. A number of factors can, and do, reduce the number of these incidents, sparing the suffering that inevitably accompanies such events:
Education Programs: Investments in messaging have been profound here in Maryland, encouraging people to "make a plan for a safe and sober ride." Restaurants, bars, and liquor stores sport posters promoting personal responsibility, and are supported by media campaigns encouraging sober driving.
Rideshare: With easy access to a relatively inexpensive ride home utilizing apps like Uber and Lyft, having a few drinks doesn't have to result in getting behind the wheel when you shouldn't.
Law Enforcement Visibility: Another effective deterrent to drunk driving is having law enforcement out and about, particularly during the late hours on weekends.
Treatment Options: A number of successful treatment programs help individuals with substance abuse issues throughout the state.
Following an Accident 
If you have been victimized by a drunk driver, knowing the offender will be incarcerated or faces other penalties is small satisfaction for the harm you have suffered.  In many cases, victims are entitled to substantial damages.  To discuss the possibilities, contact the Baltimore car accident attorneys at the Law Office of Hasson D. Barnes, LLC for help today.
Resources:
mva.maryland.gov/safety/mhso/MHSO_AR_2016_final2.pdf
fox5dc.com/news/maryland-drunk-driver-whose-dui-crash-killed-3-friends-violates-parole-by-drinking-and-driving
https://www.hbarneslaw.com/enhancing-safety-for-your-teen-driver/