Drunk Driving and Wrongful Death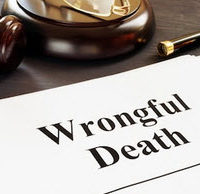 A pair of five-year-old twins and their younger brother were killed on New Year's Eve, 2018, when the vehicle they were riding in was smashed into by a pick-up truck.   While stopped at a red light the pick-up truck slammed into their car, careened through the air and ultimately crashing onto the rear seat where they were sitting.  Law enforcement officers mourned the tragedy and linked it to alcohol, adding they'd made roughly 6,700 DUI arrests throughout 2018.  The children's parents survived the crash, but have a long road to recovery, both physically and emotionally.  They, like so many others, must somehow find a way to live with the fact that their loved ones were taken in a senseless, horrendous moment, through no fault of their own.
If you have lost a loved one under similar circumstances, you may find some recourse by consulting a local Baltimore wrongful death attorney who is familiar with personal injury and wrongful death laws.
Harrowing Data
30,000 individuals lose their lives in drunk driving incidents every year in this country, at a cost of an estimated $44 billion in medical expenses and lost wages. Just under 2,000 of those fatalities occur here at home in Maryland. In fact, approximately one-third of all highway fatalities involve inebriated drivers, according to the Centers for Disease Control and Prevention.  Here in Maryland, as in most states, drivers who test with a blood alcohol concentration of .08 percent or higher may be charged with DUI.
Wrongful Death
Wrongful death charges may be brought against a person whose negligence results in the death of someone else.  In such cases, the estate of the deceased family may file a lawsuit on behalf of surviving family members, which might include a spouse, child, parent, or, in some cases, other blood relative or individual who relied on the deceased for some level of financial support.
What is the Point of Filing Suit?
Without doubt, the loss of a loved one can never be made up by any dollar amount.  Nevertheless, the financial impact of such a loss can be daunting, and assessing liability to the person responsible for your loss is one way to lessen the burden in the aftermath of disaster.  Damages could potentially be awarded to address a number of issues, including:
Expenses related to medical treatments related to the accident;
Funeral and burial expenses;
The loss of wages, both current and future;
The loss of guidance and/or protection that children experience with the loss of a parent;
The loss of companionship that a spouse experiences ;
The costs associated with having to pay for services that would normally have been performed by the deceased, such as childcare, home maintenance, etc.;
Emotional pain and suffering.
Pursuing Charges
Survivors who must go forward without loved ones face tremendous obstacles to happiness and productivity.  When a drunk driver chose to get behind the wheel of a vehicle, that decision led to irreparable loss.  At the Law Office of Hasson D. Barnes, LLC, our compassionate legal team will be gentle with you, but will take out all the stops in pursuit of justice on your behalf. Contact our Baltimore office today for a confidential consultation.
Resources:
cdc.gov/motorvehiclesafety/pdf/statecosts/ny-2015costofcrashdeaths-a.pdf
cdc.gov/motorvehiclesafety/pdf/impaired_driving/Drunk_Driving_in_MD.pdf