Wrongful Death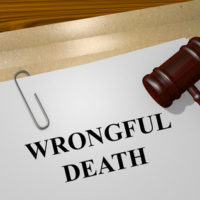 It is impossible to imagine the devastation associated with losing a loved one in an accident that was the result of someone else's negligence or recklessness. In addition to the emotional toll of such incidents, families are faced with overwhelming financial burdens connected to medical costs and funeral expenses. In some situations, matters are even more dire because the deceased was a family breadwinner. If you are reeling from the accidental death of someone in your family, an experienced local attorney can help you address the financial issues you are facing due to the incident.
Wrongful Death  
When someone dies as a result of the disregard or heedlessness of another individual, Maryland law allows the family to seek compensation from the guilty party. For example, if the death is a result of a drunk driving incident, the inebriated driver may be held liable for damages under Maryland's wrongful death statute. The same is true if the death was the result of medical malpractice, an assault, a defective product, or any other situation that was seeped in negligence or recklessness.
Damages
Damages may be awarded in two categories: economic and noneconomic.
Recompense to address actual costs associated with the accident, such as medical bills, funeral costs, lost wages, and other real expenses, are referred to as economic damages. Awards may be in the millions of dollars.
in addition to these expenses, claimants may be compensated for loss of companionship, loss of parental guidance, and pain and suffering. These comprise noneconomic damages, and, as per Maryland § 3-2A-06, may be as high as $650,000.
Who May File such an Action? 
Maryland Statute 3-904 identifies who may file this type of claim:
The spouse of the deceased;
The parent(s) of minor children;
Unmarried children who either
Are 19-21 years old; or
Were supported at a rate of 50 percent or more by a parent in the previous year.
In the event there are no surviving spouses or children, anyone else who relied on the deceased and is related by blood or marriage may be able to make a claim, as well.
Statute of Limitations 
Filing a wrongful death claim is permissible within three years of the fatal incident. It is advisable to seek legal help as soon as possible following a fatality.
Complications of these Cases 
Like most legal endeavors, dealing with wrongful death cases can be extremely complicated. In some cases the decedent may have multiple children, perhaps from more than one spouse. Many families are comprised of children, stepchildren, and half-siblings. These issues, in addition to the complexities of establishing the misconduct or negligence, make wrongful death cases an intricate, and often delicate endeavor.
Having confidence that your legal team is top notch can go a long way toward making the process more tolerable. At the Law Office of Hasson D. Barnes, LLC, you can trust that your legal team will work relentlessly to achieve the best possible outcomes for you.  Contact us in Baltimore to discuss your case today.
Resource:
govt.westlaw.com/mdc/Document/NBE36D1D0CAC411E19932805DE6D3F13A?viewType=FullText&originationContext=documenttoc&transitionType=CategoryPageItem&contextData=(sc.Default)