Collisions Involving Big Rigs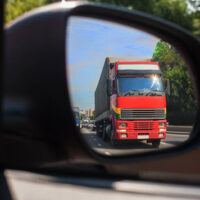 Our highways are crammed with vehicles of all kinds, from motorcycles and small passenger vehicles to delivery vans and tractor-trailers.  Not surprisingly, the size of the vehicle often has an impact on the amount of damage incurred in the event of a collision, particularly when any of these vehicles crash into each other.
Maryland Accidents 
It seems there is an endless list of highway accidents involving some of the largest vehicles on the road, often with heart wrenching outcomes:
One individual was killed and two others hospitalized after an SUV lost control and crossed in front of a big rig, after which the tractor trailer pushed the SUV, crushing it into the median in Prince George's County.
A tractor trailer overturned in Halethorpe, trapping the driver. He was eventually extricated by fire crews and taken to a nearby hospital.
A tractor trailer collision with a pickup truck in College Park resulted in four people requiring hospitalization.
When a tractor trailer skidded down an embankment in Hancock, the driver experienced injuries requiring a flight to Shock Trauma in Baltimore.
Risks for Truck Drivers 
Without question, any number of factors may coincide to contribute to an accident, including substance abuse and  distracted driving. One insurance company lists the leading issues as follows:
Drivers who lack experience: Best practice is considered to mean that drivers are hired only after they have two years' experience on the road behind the wheel of a big rig.  That being said, new drivers have to learn and gain experience somewhere, right? Novice drivers are certainly more prone to making mistakes than those who have been driving tractor trailers for decades.
Driver turnover: Even experienced drivers may not be familiar with the loads and equipment associated with a particular company, and they may face a steep learning curve when they're new on the job.
Speeding: When drivers exceed the posted limits, drive too fast for weather and road conditions, or fail to slow down in heavy traffic, they put everyone at risk.
Fatigue: While truckers are required by law to take designated rest breaks, when they push themselves into fatigue because they have deadlines to meet, they enhance the possibility of accidents.
Low Visibility: Semi trucks have a huge blind spot!  Failing to use mirrors, signal appropriately, and proceed with caution when changing lanes can lead to disaster.  Vehicles that are equipped with anti-collision equipment reduce the chances for collisions significantly.
Following a Collision with a Big Rig 
If you or a loved one has suffered serious consequences as a result of a careless or reckless tractor trailer driver, you have the sympathy of the legal team at The Law Office of Hasson D. Barnes.  Beyond that, know that our experienced Baltimore truck accident attorneys stand ready to assist you in recovering damages to address medical bills, lost wages and more.  Schedule a confidential consultation in our office today.