Traumatic Brain Injury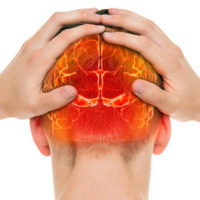 Traumatic brain injury (TBI) can occur over a period of time when the brain was exposed to extreme jarring, such as in the case of boxers, or they can be the result of a single tragic event, such as an automobile collision. It is a sad fact that roughly 1.5 million people suffer from TBI every year in this country, and one-third of those people do not survive.  If you have a loved one who is struggling to recover from the effects of TBI that was due to human recklessness, negligence, or aggression, an experienced personal injury attorney may be able to help you recover damages to assist in your plight.
TBI Symptoms 
The symptoms of each case may differ, and may include any combination of indicators, including:
Changes in one's mental/emotional behaviors;
Decreased self-awareness;
Seizures;
Processing issues;
Memory deficits;
Distractibility;
Difficulties with language;
Troubles with sensory processing;
Chronic pain;
Other cognitive issues.
Causes of TBI 
The causes of TBI are many, ranging from open head injuries to closed head injuries, chemical hypoxia, stroke, infections, deceleration injuries, and tumors. No TBI is easy to accept or deal with, and many are simply the result of nature taking its course. But when human liability is part of the equation, there is justification for pursuing legal action. Such instances may include:
Post-surgical infections;
Gunshot wounds to the head;
Exposure to solvents, chemicals or gasses;
Slip and fall accidents that were the result of human negligence;
Motor vehicle collisions;
Sports injuries that were not treated appropriately;
Drowning.
Youth Sports and TBI 
Pursuant to Maryland State Senate Bill 771 and House Bill 858) the Department of Education issued policies and programs on concussions for public schools, which addresses sports injuries in high schools, and calls for the training of coaches and parents on the risk of head injuries. They should understand the causes of concussions, criteria for removing and returning student athletes to the playing field (or court as the case may be), and the risks associated with failing to report an injury to a qualified physician.
When a Lawyer can Help 
When a concussion results in serious TBI symptoms or death, families are devastated. All too often, such injuries are the result of improper actions or care. In such cases, the experienced legal team at the Law Office of Hasson D. Barnes, LLC will fight for some level of justice on your behalf. We know you are struggling with the emotional burden of the situation, and beyond that, the financial ruin that comes with extreme medical emergencies. We will seek remuneration to support your needs, including:
Hospitalization;
Long term therapies;
Counseling or psychiatric care;
Travel costs connected to medical care;
Lost present and future wages;
Funeral costs.
Don't try to take on the difficulties of this situation on your own.  Our empathetic, yet aggressive team will provide you the legal support you deserve in your time of need. Contact us in Baltimore for a confidential consultation today.
Resource:
mpssaa.org/assets/1/6/Policies_and_Programs_for_Concussions_12.12.pdf