Tractor-Trailer Accidents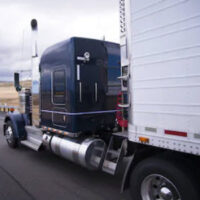 Any traffic accident is frightening, perhaps none more than accidents involving tractor-trailers.  The size and power of these big rigs can overwhelm smaller vehicles, jeopardizing the safety and well-being of everyone involved.  If you or a loved one has been involved in such an accident, having a hard-hitting personal injury attorney in your corner is a good idea.
Local Tractor-Trailer Incidents 
Unfortunately, Marylanders are no strangers to the impacts of tractor-trailer crashes.  Some of the incidents in recent times include:
In March 2019 an SUV was involved in an altercation with a tractor-trailer resulting in the death of the driver and the hospitalizations of two passengers;
A tractor-trailer overturned due to a shifting load in July 2018, spewing scrap metal across Route 100, but luckily no injuries were reported;
When a tractor-trailer collided with a pickup truck in College Park, four individuals were hospitalized;
One man was hospitalized after being trapped under a tractor-trailer rollover in Halethorpe.
Factors in Tractor-Trailer Incidents  
A number of factors combine to make accidents involving these rigs particularly dangerous:
Mass: Some of these vehicles, when loaded up, weigh upwards of 80,000 pounds!  That's 20 times more than the largest passenger vehicle on the road, and 80 times more than smaller vehicles.  A collision will crumple a smaller vehicle even going at relatively slower speeds.
Shifting Loads: When heavy loads shift in a tractor-trailer, it can cause the entire vehicle to overturn.
Speed: It takes roughly three times longer than other vehicles for a tractor-trailer to come to a stop after the driver slams on the breaks, meaning the speed at the time of impact may be higher than it would be with a passenger vehicle.
Training: While drivers do undergo specialized training, they often lack the chance to actually practice how to handle these monstrous vehicles in poor conditions or in emergency situations.
Driver Error: Drivers of these rigs are capable of the same kinds of mistakes that any other driver might make, but with greater risk.  Because they frequently are on the road for 10-11 hours at a time, fatigue may hamper reaction time and judgment.  Distractions involving cell phones, GPS directions, eating and drinking, and changing a radio station can take drivers' minds off of the road for just long enough for disaster to hit. And, like other motorists, some drivers get behind the wheel of these rigs after using prescription, over-the-counter, or illegal drugs that have mind-altering effects or that cause drowsiness.
Following an Accident 
If you've been the victim of a terrifying accident with a tractor-trailer, you may be facing significant expenses and a difficult recovery due to injuries.  At The Law Office of Hasson D. Barnes, our Baltimore personal injury lawyers can help by investigating the cause of the incident and pursuing damages on your behalf.  For a confidential consultation, contact our office today.
Resource:
baltimore.cbslocal.com/2017/04/01/4-injured-in-overturned-tractor-trailer-accident/