The Worst Time For Divorce: When You're Pregnant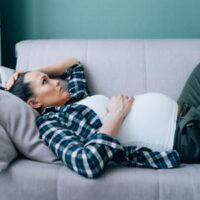 As a pregnant woman, what could possibly be the impetus for a divorce?  We generally think of pregnancy as a time of excitement as the happy couple plans to expand their family.  But that stereotype simply doesn't match up with the reality for many.  If you are going to be dealing with both a pregnancy and a divorce in the coming months, know that, while it may be challenging, you will get to the other side.
Why Now? 
Although no one would likely choose this timing, divorce may be the best call for some pregnant women.  For others, perhaps the choice was out of their hands.  Either way, it is a reality for many:
When a marriage was on the rocks to begin with, a pregnancy may exacerbate problems;
If one or the other partner cheated, it could fracture the relationship;
When there are questions as to paternity, one parent may give up on the marriage;
If the woman is fearful that domestic violence will endanger the unborn child she may choose this time to leave;
If the pregnancy occurred through force or trickery, the disenchanted partner may wish to split;
If the pregnancy occurs during financially strained times, the pressures may cause the relationship to implode.
Surviving Divorce While Pregnant 
The physical, mental and emotional fluctuations for women during pregnancy are notorious.  Adding a divorce into the mix could be truly overwhelming.  That's why women in this situation need to take steps to protect their mental and physical health:
Let yourself lean on friends and family.
If your safety is a concern due to past episodes of domestic violence, take advantage of resources available to you to optimize your security and well-being;\.
In the event you believe it is possible to improve your relationship with your ex through counseling, do so. It may help in developing a parenting plan, since you will be in one another's lives for a long while after the birth of the baby!
Take time to care for yourself and keep your spirits up by engaging in relaxing, enjoyable, or challenging activities, such as journaling, reading, walking, swimming, learning a new skill, or developing a hobby.
Make plans for life ahead—decorate the nursery, arrange for daycare, pick out baby clothes!
Make arrangements—financial and otherwise—for life as a single mother.
Say goodbye to guilt; if the decision for divorce is good for you is likewise good for your baby.
Your Legal Advocate 
If you are facing divorce during your pregnancy, having a compassionate, but a skilled Baltimore divorce attorney working on your behalf is essential.  At The Law Office of Hasson D. Barnes, that is exactly what you will get.  Schedule a confidential consultation in our office today.