Ten Factors Considered In A Custody Battle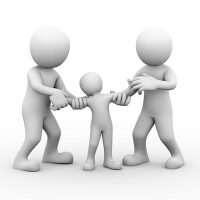 While it's generally agreed that children do best when both parents have a strong relationship with them, there are situations in which divorcing couples battle over custody issues and one or both feels strongly that they should have sole custody. What does the court consider in these situations?
Legal Expectation 
The law requires that all custody decisions be based on the best interests of the child. When there is a conflict between parents related to where the kids should live or who should have the final say in decisions related to them, the court takes a look at the overall circumstances of each parent.  Certainly, it's always easier when parents can come to an agreement on their own.  When that's just not possible, a number of specific issues will be considered:
1-    Both parent's living situation and whether there is a safe place for the kids to be is important.
2-    The relationship of each parent with the kids, including how long each has been involved with the kids, who played the primary caregiving role, and the quality of the connections the kids have with each parent will be relevant.
3-    Depending on the age of the kids, their preferences will be taken into account.
4-    Each parent's career obligations will be considered, with questions as to travel, schedule, and ability to care for the kids weighed.
5-    If there is a history of documented domestic violence, it will weigh heavily on a judge's decision regarding custody and visitation.
6-    The mental and physical health of each parent will be an important factor as the judge determines the ability of each to care for the children.
7-    Judges are keenly concerned with parents' willingness to cooperate with the other parent and flex with needs and schedules as they look to secure inclusive relationships with both parents.
8-    If either parent has addiction issues that could interfere with the safety of the children, it will be a significant factor in any judge's custody and visitation determinations.
9-    Which home will provide the least disruptive situation for the children? The judge will surely take into account whether moving kids out of their home schools and neighborhoods will be unnecessarily upsetting for children.
10- Are there step-siblings or half-siblings whose connections with the other kids is important to maintain? Where do they live, and what needs to happen to support those relationships? 
Working for You 
At the Law Office of Hasson D. Barnes, our experienced Baltimore child custody lawyers are committed to fighting for the best possible outcomes for you and your children. To discuss the particulars of your situation, schedule a confidential consultation in our Baltimore office today.