Staying Safe on Your Bicycle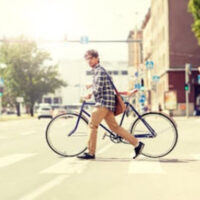 When a Stockton woman and her 9-year old son took their bicycles out for a spin one late afternoon, neither had any idea that it would be their last ride together. 43-year old Lynn Wolff was struck by a vehicle that fateful day and lost her life.  It was one of many horrendous bicycle accidents that occur with frightening frequency.  If you or a loved one is injured in a bicycle collision, it may be a good idea to consult with a local personal injury attorney.
Maryland Bicycle Incidents 
With the steady increase in bicycling for pleasure, exercise, and transportation, it's no surprise that crashes, too, are on the rise in Maryland.  The statistics relating to bicycle/vehicle crashes are alarming:
Over 800 bicycle collisions occur annually in Maryland;
80 percent of bicycle crashes lead to medical treatment, or even death;
Over half of bicycle collisions occur in the Baltimore Metro area;
The Washington Metro area accounts for about one-third of these incidents;
Six out of ten collisions occur between May and October, with the lion's share of crashes occurring from June to September.
Increased Exposure Requires Safe Riding
Clearly, in an auto-bicycle collision, a bicyclist is much more vulnerable to injuries, making it crucial for bicyclists to take every possible precaution to stay safe on the roads. Some fundamental safety tips from AAA include:
Wear a helmet to reduce risk of serious injury by as much as 85 percent;
Don't double up on a bike that's intended for one;
Ride single-file on the road;
Make sure your bike is in good working condition with working brakes, reflectors and/or lights, steering, gears, and well-inflated tires;
Use proper hand signals to give others a heads up on your intentions;
Pay attention to road hazards that may cause you to dodge into traffic;
Avoid riding in slick or icy weather;
Never wear headphone that could impede your ability to hear traffic;
Wear bright colors to improve visibility;
Stop and look carefully at intersections before proceeding.
Bicycle Injuries 
Sometimes, despite cycler's cautious riding, they are unable to avoid collisions.  The types of injuries to ensue can be extremely serious.  Nationally, 580,000 people go to emergency rooms due to injuries that occurred while riding every year. Patients are treated for minor issues like road rash, as well as more serious issues ranging from broken bones to traumatic brain injuries. In the worst cases, victims of accidents die.  The number of fatalities nationwide is roughly 900 per year, while the number in Maryland is often between 15-30.
Following a Bicycle Crash 
If you or a loved one is struck by a motor vehicle while riding a bike, and serious injuries or death result, the Baltimore bicycle accident lawyers at the Law Office of Hasson D. Barnes can help.  Contact our office to discuss the circumstances and outcomes of your crash today.
Resource:
wboc.com/story/41552765/msp-bicyclist-killed-in-worcester-county-crash
https://www.hbarneslaw.com/auto-bicycle-collisions-in-maryland/