Senior Citizens Experience Domestic Violence, Too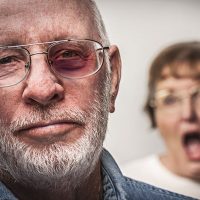 Sexual, physical, verbal, emotional violence: it's a fact of life for many Americans.  But just imagine it's your grandfather.  He experiences violence on a regular basis at the hands of his spouse.  Or perhaps it's a beloved auntie who's battered in her own home.  While it's difficult to imagine that our vulnerable relatives and friends experience abuse, the fact of the matter is that it happens more often than any of us would like to contemplate.
A Real Problem 
90 percent of adults who are 65+ still live in their communities, often in homes they've been in for years. Roughly 10 percent of them have already–or will at some point in the future– experience abuse. One survey of elders who'd suffered abuse revealed that well over 50 percent this abuse comes at the hands of spouses or partners. That is domestic violence.
Abuse in Later Life 
Not so different from domestic violence that occurs among their younger cohorts, power and control are central to the abuse of elders. Abusers tend to threaten, manipulate, intimidate and isolate victims as a way to control where they go, whom they see, or how they spend money. And just like elder abuse in other situations, domestic violence in later life involves the grasp for power in mental, physical, sexual, and financial ways that endeavor to diminish the victim.  While some may believe it occurs only among "other" groups, the truth is that domestic violence is a fact of life for partners of all ages, religions, cultures, and financial situations.
Social Services 
What kinds of social services are available for survivors of domestic violence? Communities across the country offer many options:
Free shelters for emergency use;
Assistance developing a safety plan;
Crisis counseling & intervention;
Peer counseling and group work;
Cell phone loans.
Regrettably, elderly victims of domestic violence often face distinct barriers when it comes to accessing services, especially if they have mobility issues, diminished mental capacity, or are extremely isolated.
Legal Interventions 
Undoubtedly, safety simply must be the focus of any interventions. In many cases, that may begin with legal interventions to ensure that these individuals are safe.  That could include:
A protective order that orders the abuser to stay away from the survivor of domestic violence;
Police arresting the abuser;
Court-ordered treatment interventions for the abuser;
Criminal prosecution of the offender.
If You are Concerned About an Elder 
Perhaps there is an elderly person in your life who is suffering domestic violence, and you are having trouble understanding why they don't leave their abuser. Sometimes these relationships have existed for decades, making it difficult to extract oneself from it.  In some cases, victims of abuse may have religious, financial, or generational values that keep them entwined with their abusers. For these reasons and more, sometimes your best bet is to listen, support, and deliver information and options.
A Lawyer Can Help 
At The Law Office of Hasson D. Barnes, our compassionate Baltimore family attorneys understand that it is often achingly difficult for survivors of domestic violence to advocate for themselves–but we are here to do it for them.  In addition to legal action, we can point survivors to the local resources that can help. To discuss the possibilities, schedule a confidential consultation in our office today.
Source:
justice.gov/file/1098056/download