School Bus Accidents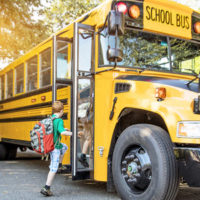 As children boarded the bus for school one early October morning in 2017, they certainly hadn't considered the possibility of winding up in the hospital instead of in their classrooms. But that's exactly what happened to over a dozen kids after a teenager, who was closely following the bus, rear-ended the larger vehicle.  Although none of the injuries were serious, it was certainly a harrowing morning for everyone involved.  In the event your child suffers major injuries or trauma following a similar event, seeking the counsel of a local personal injury attorney may be a wise choice.
Local Incidents 
There are more accidents involving school buses in Maryland than you might imagine.  A few recent examples are:
An April 2019 fatal collision in Clinton that sent two students to the hospital, along with several other people from the other vehicle;
May 2019 students from a local elementary school were involved in an accident in Reisterstown;
An October 2018 crash in Montgomery County involving a car, a truck, and a school bus, resulted in injuries to several students;
A June 2018 collision in Havre de Grace that left three children injured;
A May 2017 school bus collision involved four students in Bel Air;
A head-on crash in Baltimore resulted in injuries to two students in February 2017.
National Statistics 
Across the country, while school-transportation related collisions with devastating outcomes occur rarely, they happen all too often for the individuals involved. Between the years of 2007 and 2016, the NHTSA reports the following:
Nearly 300 children were killed in such collisions;
The majority of school-age fatalities occur between the hours am 6-7 am and 3-4 pm;
Front impacts to the bus resulted in 45 percent of fatalities;
Over 250 non occupants of school buses, such as pedestrians and bicyclists, were killed in school transportation collisions;
Over 60 percent of single-vehicle incidents involved crashes into a fixed object;
Five percent of single-vehicle incidents were rollovers;
Six percent of single-vehicle incidents involve an individual falling out of the bus.
Safety Tips 
The fact of the matter is, children have no control over drivers of the school bus or otherwise out on the road.  Nonetheless, accidents on and around school buses can be serious, making it important for children to practice safety in and around school buses:
Wait a safe distance away from the curb;
Learn about the bus "danger zone" where children are most likely to get hit;
Remain seated when the bus is in motion, with feet and objects away from aisles;
Avoid distracting the driver with noise or motion.

Let Us Help You Today 
If a serious accident has resulted in hospitalization for your little one, let the experienced Baltimore personal injury attorneys at the Law Office of Hasson D. Barnes fight for justice on your behalf.  Contact our office today to discuss the possibilities.
Resource:
baltimore.cbslocal.com/2017/10/05/school-bus-wreck-2/