Bicycle Safety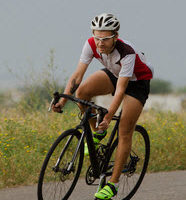 People choose to ride bicycles for any number of reasons:  it may be a primary means of commuting for some, while it's simply a way to enjoy the great outdoors for others.  For many, it's a relaxing and enjoyable way of getting a bit of exercise. For other riders, limiting one's impact on the environment is also an important consideration.  Regardless of the impetus for riding, the one thing all bicyclists have in common is the desire to have a safe ride.  Unfortunately, that is not always the case.  In the event you or a loved one experiences a serious motor vehicle/bicycle accident, the assistance of a Baltimore personal injury attorney could prove to be extremely beneficial.
Alarming Statistics
Nationally, the data shows that over 700 fatalities and 50,000 injuries involving bicycle accidents occurred in 2014. The financial cost of these injuries tops $4 billion.
Here in Maryland, there are an average of over 800 auto-bicycle collisions reported throughout the state every single year, according to the Maryland Motor Vehicle Administration. 80 percent of those result in injuries. Tragically, between five and 16 people have been killed each year for the past several years.
Tips for Riders
Obviously, in a collision involving a motorized vehicle and a bicycle, the bicycle will get the short end of the stick every time. It behooves riders to follow a number of safety tips in order to improve the odds of staying safe:
When riding at dawn, dusk, or at nighttime, be sure to employ both head- and tail lights to increase visibility;
Be sure to ride in the same direction as traffic, remaining as far to the right of the roadway as possible without weaving between parked cars;
Avoid riding on sidewalks, from which drivers are not likely to anticipate you to emerge;
Avoid stopping in the blind spot of any vehicle when at lights or stop signs;
Be cognizant of vehicles making turns; even though you may have the right of way, a vehicle that rolls through a stop sign to turn right, or who speeds through a yellow light to make a left turn could prove to be disastrous;
Indicate your intentions by using hand signals;
Avoid carrying items that might limit your ability to steer your bicycle;
Refrain from wearing headphones that could interfere with your ability to hear and respond to traffic;
Whenever possible, make eye contact with drivers as you approach intersections, driveways, or parked vehicles;
Always wear a helmet!
Following an Accident
If you or a loved one has suffered serious personal injury as a result of a collision with a motor vehicle, we recommend you focus on the recovery, and leave the legal issues to us at the Law Office of Hasson D. Barnes, LLC. Our experienced and aggressive legal team will get behind you in order to achieve the best possible outcomes, including the potential to obtain damages to deal with medical bills, lost wages, pain and suffering, and more. Contact us in Baltimore to schedule a confidential consultation today.
Resource:
pedbikeinfo.org/data/factsheet_crash.cfm
https://www.hbarneslaw.com/serious-consequences-of-accidents-traumatic-brain-injuries/