Same-Sex Divorce in Maryland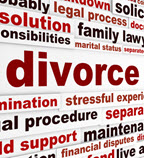 Legal marriage has only been available in Maryland since 2013. So while same-sex divorces are subject to the exact same regulations as hetero divorces, there are sometimes complexities in applying laws that were written without same-sex couples in mind. If you are a member of a same-sex couple that is facing divorce, having a knowledgeable attorney by your side to help navigate the system is a good idea.
Property Division 
A number of factors are considered during the process of dividing marital property. One problem for gay couples is that, since marriage has only been legal for a few years, determining what constitutes marital property versus what constitutes non-marital property can be somewhat complex. That's because only property that has been accumulated since the wedding date counts as marital property. For LGBTQ couples who resided together as a married couple, without the legal right to marriage prior to 2013, their shared assets become difficult to quantify legally.
Alimony 
For the same reasons, calculations related to alimony may be complex. One key issue factored into alimony assessments is the length of the marriage. Because marriage has been legal just since 2013, couples who considered themselves married prior to that may face difficulties as this important divorce topic proceeds through the court.
Grounds for Divorce 
Finally, if the grounds for divorce are adultery, you enter a tricky legal conundrum. The law defines adultery as voluntary sexual intercourse between a married person and someone other than the person's spouse.  When an extramarital relationship includes sexual intimacy but not sexual intercourse, it is that intimacy considered adultery?
According to Maryland's Attorney General, Brian E. Frosh, sexual conduct with an individual of the same sex would be included under the Family Law Article's definition of adultery.  Even so, appellate courts in Maryland have not yet made that determination. One Circuit Court for Montgomery County did hold that, in the midst of divorce proceedings, engaging in same-sex extramarital activities did constitute adultery.
Custody and Visitation Issues 
Although a number of factors will be considered during custody evaluations, biology will be paramount. Recently, Maryland courts have ruled that when non-biological parents are helping to raise children who live in the home, they are entitled to parental rights. They may now be considered a de facto parent, giving them custody and/or visitation rights.
Judicial Discretion 
Notably, judges may rely on their own discretion within the parameters of the law as they weigh the factors in a divorce. That's precisely why it's so critical to have an aggressive attorney with wide-ranging courtroom experience and a deep understanding of Maryland law fighting for your rights as you negotiate the complex labyrinth of a same-sex divorce in this state. At the Law Office of Hasson D. Barnes, LLC, that is precisely what you will get. Don't trust your future to anyone else. Contact our Baltimore office for a confidential consultation today.
Resource:
marylandattorneygeneral.gov/Opinions%20Documents/2015/100OAG105.pdf