Road Rage has Consequences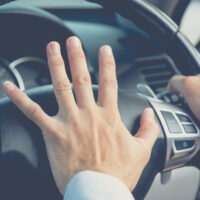 Who among us hasn't experienced annoyance on the road?  These days, in particular, have been fraught with stress for many Americans, making us even more susceptible to feelings of impatience, irritation, and yes, even rage, when behind the wheel.  But giving in to such feelings is never a good idea, even if your feelings are legitimate.
Case in Point 
After Mark Wieland backed his Silverado into a Honda belonging to Salah Marnache, Wieland took off without acknowledging the damage or taking responsibility in any way.  Infuriated, Marnache pursued the truck, an attempt, he said, to get the license plate number.
Wienand smashed through an intersection in his attempt to escape, striking yet another vehicle, but continued in his getaway attempt.  A number of witnesses called 911 to report the high-speed chase in Anne Arundel County.  By the time highway patrol officers were able to catch up with the two, Weiland's vehicle had smashed into a utility pole and flipped upside down.  Unfortunately, he was pronounced dead shortly thereafter.
And Marmache?  He faces multiple charges, including criminally negligent manslaughter, negligent driving, unreasonable speed, eluding, and negligent homicide.  Both men, it seems, paid a heavy price for their mistakes.
Maryland Statistics 
Unfortunately, the Wieland case was not an isolated incident.  In fact, between 2013-2017, 48 individuals lost their lives due to aggressive driving in Maryland.  More than 1,600 others experienced injuries, while over 4,500 were involved in crashes.
What Constitutes Road Rage? 
According to the National Highway Traffic Safety Administration (NHTSA), defines road rage as driving offenses that endanger others, or the using of a motor vehicle as a weapon.
Do you Trigger Rage in other Drivers? 
People who report getting angry behind the wheel say that a number of issues lead to those feelings.  It's worthwhile taking stock of your own driving habits to examine whether or not you may be unknowingly (or purposefully) instigating rage in other drivers:
Do you tend to use the phone or succumb to other distractions while behind the wheel?
Do you drive with your high beams on when you shouldn't?
Do you neglect to use your turn signal when switching lanes or making turns?
Do you cut off other drivers with lane changes?
Do you block other vehicles from merging?
Do you drive too slowly in the left lane?
Do you lay on the horn when other drivers make mistakes?
These behaviors, among others, can lead to aggressive and dangerous driving if there's a hotheaded motorist nearby.  While your actions certainly don't make road rage acceptable, they may bring you unwanted headaches, and potentially injury, so it's best to try to avoid irritating other drivers.
Following a Road Rage Incident 
If, for whatever reason, you find yourself the victim of a road rage incident, it's important to know that aggressive and dangerous driving is illegal, and the enraged driver is at fault.  At the Law Office of Hasson D. Barnes, our experienced Baltimore car accident attorneys will fight for justice on your behalf.  Contact our office to schedule a confidential consultation today.
Resources:
nbcwashington.com/news/local/1-dead-1-charged-after-road-rage-chase-in-maryland/2231308/
safemotorist.com/Articles/road_rage/
https://www.hbarneslaw.com/maryland-drunk-driving-accidents/