Pedestrian Accidents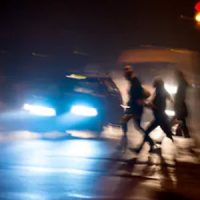 Over 6,600 pedestrians were killed in traffic accidents across the country in 2020.  131 of those were right here in Maryland. Sadly, the trend is moving up year to year, with an increase of over 50 percent in the decade from 2010-2020.
Alcohol Related Accidents 
While many factors play into any kind of accident, one of the most infuriating is alcohol.  In a quarter of fatal accidents, the pedestrian was impaired, while in 10 percent these accidents drivers were impaired.  Both driver and pedestrian were impaired in six percent of these incidents.
Maryland Statistics 
Here in Maryland, there are roughly 3,000 collisions involving pedestrians annually, which accounts for just three percent of crashes in the state.  Nonetheless, nearly one in four fatalities in the state is a pedestrian.
Over 90 percent of these crashes take place in the Baltimore and Washington metro areas.
About one-third of pedestrian-involved collisions take place in Baltimore itself, with another quarter occurring in Prince George's County.
Men experience injuries in these incidents 56 percent of the time and they account for over 70 percent of fatalities.
About 75 percent of drivers in these crashes are aged 33 or younger.
Factors Impacting Collisions 
In addition to alcohol, there are a number of factors that contribute to pedestrian crashes, including:
Darkness;
Distractions (both pedestrians and drivers);
Vehicle malfunction;
Speeding;
Pedestrians failure to cross in a crosswalk or at a signal;
Drivers running or rolling through stop signs or red lights;
Vehicles passing another vehicle that is stopped for pedestrians;
Drivers failing to yield the right of way to pedestrians.
Safety Tips for Pedestrians 
Obviously, pedestrians are at a significant disadvantage when a collision occurs with a motorized vehicle. Safety is vastly improved when pedestrians play it smart:
Use sidewalks when available;
Walk facing traffic when no sidewalks are available;
Look both directions before crossing the street even if you have the right of way;
Avoid listening to headphones that will interfere with your ability to hear traffic;
Wear reflective clothing at night;
Wait for buses from a safe distance.
Drivers: Be Responsible 
Drivers should always be on the alert for pedestrians, particularly in neighborhoods where children may not be paying attention. Motorists should always yield to pedestrians, whether or not they are in a crosswalk or have the right of way.  At night, especially, stay focused and aware of your surroundings.
After an Accident 
Sadly, the injuries to pedestrians are often severe, even fatal, when vehicles collide with them. At The Law Office of Hasson D. Barnes, our Baltimore personal injury lawyers acknowledge the physical and emotional suffering when someone is involved in this kind of incident.  We also recognize that the financial costs can be overwhelming.  Understand that you may be entitled to damages to address medical costs, burial costs, lost wages, emotional suffering, and more if you or a family member is harmed in an auto-pedestrian crash.  Schedule a confidential consultation in our office to discuss the possibilities.
Source:
ghsa.org/sites/default/files/2022-05/Pedestrian%20Traffic%20Fatalities%20by%20State%20%E2%80%93%202021%20Preliminary%20Data.pdf