Negligence Leads to Boating Injuries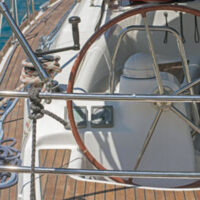 As two women boarded a pontoon boat in Ocean City, they were struck by the rotating propeller, incurring serious, though not life-threatening injuries. As a result of the incident, the boat operator was charged with negligent operation of a vessel.  If you have experienced serious injuries due to the negligence of another person, you may find some degree of solace knowing that you may be eligible for damages to address the financial burdens related to your injuries.
Personal Injury Law in Maryland 
When a person's mind or body is injured due to another's wrongful behavior or actions, it is possible to seek compensation through legal action. Even if the injury occurred with no intent, if negligence can be demonstrated, the defendant in a lawsuit may be ordered to pay compensation to the injured party.
Statute of Limitations 
In most cases, the statute of limitations in personal injury cases is three years, meaning the lawsuit must be filed with the court within three years of the injury occurring.  In some situations, as in, say, industrial accidents, a plaintiff may not be aware of an injury until years after the negligent activity occurs.  In such cases, the suit must be filed within three years of the date the plaintiff knew of, or should have known of, the injury. But the law is complex, and various exceptions exist (such as injuries related to libel, for instance), so it's important to have an experienced local personal injury attorney working on your behalf.
Contributory Negligence 
In Maryland, the rules regarding contributory negligence may limit the amount of damages to which a plaintiff is entitled.  In fact, if it can be proven that one was even minimally to blame for the injury due to their own negligence, the end result may be no damage recovery at all!  Let's say, for example, that while walking down the sidewalk a person trips on a tricycle that was laying in the pathway, causing the person to fall and break an arm.  The homeowner might normally be held liable for damages in such a situation. But, if it can be demonstrated that the pedestrian was texting while walking, the defendant may be able to claim that the negligence of leaving the tricycle on the sidewalk was no more egregious than walking without paying attention to the task at hand.  In such a case, the contributory negligence claim may win out in favor of the defendant.
Assumption of Risk 
In other situations, plaintiffs may be expected to assume a certain level of risk associated with a particular activity.  For example, if one chooses to rent a scooter, it is reasonable to acknowledge the potential for a fall.  An injury that occurs as a result of a fall, therefore, may not be compensable.
Aggressive Legal Defense 
Some Maryland laws seem to favor defendants in personal injury cases, making it imperative that you have a knowledgeable and aggressive lawyer working on your behalf if you wish to pursue legal action following an injury.  At the Law Office of Hasson D. Barnes, our Baltimore personal injury lawyers will fight to obtain the best possible outcomes for our clients.  To discuss your situation, schedule a confidential consultation in our office today.
Resources:
americanbar.org/groups/litigation/publications/litigation-news/top-stories/2013/maryland-declines-to-do-away-with-contributory-negligence/
mdcoastdispatch.com/2020/06/09/negligent-operation-charge-in-pontoon-accident/