Maryland Nursing Home Abuse & Neglect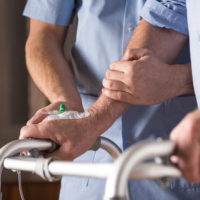 As our loved ones advance in age, they often require additional care due to decreased mental and/or physical abilities. As families make the decision to place their loved ones in nursing care facilities, they rightly expect quality medical care in a safe and sanitary environment. When those facilities fail in these measures, resulting in serious personal injury or death, seeking the advice of a local personal injury attorney can be your best recourse.
Maryland's Residents Bill of Rights 
State and federal laws are designed to protect nursing home residents from abuse and neglect. Among the rights outlined include:
Confidentiality regarding medical and other issues;
Privacy related to personal communications, etc.;
Ability to actively participate in designing and altering a medical care plan;
Dignified, respectful treatment;
Regular visits from family, social service providers, and other advocates;
A forum to lodge complaints without fear of retribution;
Access to medical records;
Transfer or discharge with safety and security;
An absence of physical, emotional, sexual, mental or verbal abuse.
Code of Maryland Residents 
The Code of Maryland Regulations (COMAR) calls out specific requirements related to staffing regulations. Specifically, every facility is required to have a licensed nurse available at all times in order to ensure patients receive the following as needed:
Prescribed dietary requirements and medical treatments/medicines;
Rehabilitation services;
Preventative care aimed at avoiding ulcers, bedsores, and deformities;
Appropriate attention to hygiene and grooming issues;
Reasonable defenses from injuries, accidents, and infections;
Encouragement and assistance in attending social activities and in self-care.
Despite Regulations 
Expectations and regulations only go so far when it comes to protecting vulnerable adults. There is clearly a lot of room for improvement, and a distinct need for families to keep a close eye on conditions when a loved one enters such a facility.
What Constitutes Neglect or Abuse? 
If any of the resident's rights or the COMAR requirements are not met, it could constitute abuse or neglect. This might result in anything from subtle impacts on your loved one, to severe consequences. You should consider contacting an attorney if unresolved issues include:
Physical abuse: Choking, kicking, hitting etc., unreasonable restraints, improper attention to cleanliness or nutrition;
Mental/emotional abuse: Name calling, intimidation, threats, degradation, and humiliation;
Financial abuse: Tricking or convincing a resident to provide access to financial information or to change a will.
Neglect:  Failure to provide basic care including meals, baths, supervision, etc.
Addressing Abuse & Neglect 
If your loved one has been the victim of abuse or neglect in a nursing care facility, and it has caused significant personal harm or death, you are no doubt angry and frustrated. It may not be too late to take action. At the Law Office of Hasson D. Barnes, LLC, our aggressive legal team will fight for justice on behalf of you and your loved one. Contact us in Baltimore for a confidential consultation today.
Resource:
mhcc.maryland.gov/consumerinfo/longtermcare/documents/resident_rights.pdf
https://www.hbarneslaw.com/more-than-you-bargained-for-when-surgical-supplies-are-left-behind/