Liability Issues in Slip and Fall Accidents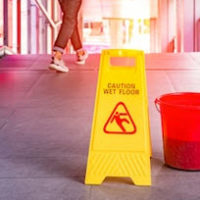 Let's say a man is walking through a hotel lobby when he suddenly feels his foot catch on something, sending him crashing to the ground. He thuds to the floor, breaking an ankle, fracturing an elbow, and sustaining a concussion. Patrons and staff in the hotel rush to his aid, noting that a tuft of torn carpeting in the vicinity was likely the cause of his fall. As an ambulance rushes him to a nearby hospital, thoughts rush through his aching head: how much is this going to cost? What are the consequences of missing the business meeting he'd flown into town to attend? When will he be back on his feet and able to get into the office? As the questions swirl through his mind, one fact should be abundantly clear: an experienced personal injury attorney can be a formidable advocate in this time of need. In particular, it is crucial to note that Maryland Code, Courts and Judicial Proceedings Article, §5-101 allows a maximum of three years to file a claim against the hotel.
Who is Liable?
Let's look back at the circumstances of the fall. It seems the man tripped due to a section of carpet that was not secure in the hotel lobby. One legal question here revolves around whether or not negligence was involved in the incident. Premises liability laws require that property owners/occupiers must exercise reasonable care in the management of their facilities. Could the hotel have prevented the fall with sensible maintenance? If so, they may be liable for damages.
Contributory Negligence
Also worth considering is the degree to which this man, himself, could be deemed responsible for the fall. In the scenario discussed here, imagine the man had had a few drinks prior to the fall. How much did his condition contribute to the accident? Weighing this factor could bar the possibility of any recovery of damages from the hotel, even if the carpeting issues were equally responsible for the fall. Maryland is one of just a handful of states that have contributory negligence laws, which state that if a plaintiff is even minimally responsible for the accident, they cannot recover damages from a defendant. An exception would only be if the hotel was found to have acted willfully or recklessly in the maintenance of the carpeting which superseded the Plaintiff's possible negligence.
Prevalence of these Accidents
According to the National Floor Safety Institute (NFSI), slip and fall accidents are all too common, and involve serious injuries much of the time:
There are more than nine million visits to emergency rooms across the country due to slips and falls in a typical year;
20 percent of slips and falls are due to flooring materials that are problematic;
More than one-fifth of these incidents result in over a month of time away from work;
Nearly 90 percent of fractures experienced by older Americans are the result of falls;
More than six in ten compensable fall cases occur on a single level surface.
Following a Fall
At the Law Offices of Hasson D. Barnes, LLC, our experienced team will work to ensure the best possible outcomes for you following a fall. Give our Baltimore office a call to schedule a confidential consultation about the particulars of your case today.
Resources:
govt.westlaw.com/mdc/Document/N96899C00F5EA11E3A274E7B388038126?viewType=FullText&originationContext=documenttoc&transitionType=CategoryPageItem&contextData=(sc.Default)
nfsi.org/nfsi-research/quick-facts/
insurancejournal.com/news/east/2013/07/11/298193.htm