Is The School Bus Stop Safe For Kids?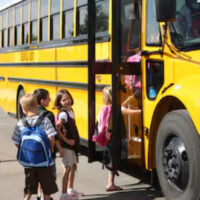 When we send our kids off to school, we anticipate they'll learn a lot and come home to us safely.  For some of us, however, those ideas fall apart when a disastrous accident occurs at the school bus stop. More than 600,000 students ride school buses across this state. What could be worse than learning that a careless driver ignored the flashing lights and stop sign on a school bus, only to injure a beloved child? Equally disastrous are incidents involving kids who are waiting for their bus, only to be hit by a car.
The Harm is Real 
Across this country, roughly 100 people die as a result of school transportation accidents. About a third of children killed were hit by vehicles who failed to stop at a bus stop. Unfortunately, Maryland has no shortages of incidents involving bus stops.
As three youngsters sat on a sidewalk waiting for their school bus, a car ran a stop sign and hit the children. All three required hospitalization, and a teen in the vicinity required treatment at the scene.
A teen who was in a crosswalk on the way to the bus experienced critical injuries after being hit by a motorist who failed to stop.
The tragic death of a nine-year-old child occurred when she was struck by her own school bus in Bethesda.
After being struck by a truck after disembarking, a seven year old girl was sent to the hospital in critical condition. The truck drove past the bus, even though the lights were flashing and the stop sign was out, hitting the little girl in the crosswalk.
Maryland Law 
All vehicles—those going either direction– are required to leave a 20-foot leeway between themselves and any school bus that has its red lights flashing and the stop sign displayed. Motorists are not permitted to start up again until those lights are turned off or the bus begins moving, or the bus driver gives a signal that it's safe to proceed. Only on divided highways with a median, drivers going the same direction are required to stop, while those traveling in the opposite direction are not.  Nevertheless, it behooves all drivers to exercise utmost caution around any bus stops or school busses.
Penalties 
Drivers who choose to ignore the law and who ignore the red flashers are subject to a fine of $570.  That is for an occurrence that does not involve an accident.  In the event a pedestrian is hit and suffers serious injuries, the penalties could include criminal charges and a personal injury lawsuit.
Have you been Harmed? 
If your child has been injured in a school bus accident due to driver negligence or recklessness, the experienced Baltimore personal injury attorneys at The Law Office of Hasson D. Barnes cannot take away the physical and emotional trauma of the incident.  We can, however, facilitate a lawsuit that has the potential to bring in the money you need to address the medical costs and more.  To discuss the possibilities, schedule a confidential consultation in our office today.
Resource:
news.maryland.gov/msp/2021/08/23/motorists-urged-to-follow-school-bus-safety-laws-as-students-head-back-to-class-2/