Is The Divorce Surge Waning, Or Is The Continuing Pandemic Still Fueling It?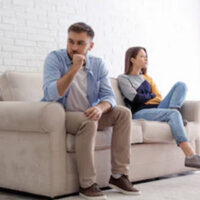 Globally, divorce has seen quite a pandemic uptick.  The first year of lockdowns that shoved everyone into endless hours together seemed to increase the irritation meter phenomenally, stressing a lot of relationships to the breaking point. While marriages that were shaky to begin with were the most at risk, even newlyweds and those in long, stable relationships felt the strain, many of them ending in divorce.  Now we're looking at a third year of pandemic; will the stresses ruin your marriage?
More Lockdowns? 
No one on the planet—leaders or otherwise—want further lockdowns, and plenty of people are doing whatever they possibly can to avoid that route in dealing with the pandemic. But who really knows how bad things will get in the coming months? Omicron is spreading at mind-spinning rates, making some people pretty nervous about what the future holds. We've already seen the U.S. hockey team bow out of the winter Olympics due to COVID, along with cancellations of football games, concerts, and other events.  What if schools make the move to virtual learning again?  How many parents could survive another year of helping their kids complete assignments that parents themselves don't know how to do?  And how many people will have to give up their jobs in order to stay home supervising their kids?  On top of all the stress related to those measures, one study after another indicates that adolescent depression and suicide rates climbed at horrendous rates during previous school shutdowns.  America's youth—rich and poor, Black, brown and white, male and female, struggled with online learning and social isolation.  Parents, facing their own mental struggles, have to manage to be pillars of understanding and strength for their kids.  Meanwhile, women in particular, find themselves burdened with disproportionally more housework than their spouses, one more pressure.
Anxiety Spikes 
As adults attempt to manage job and income changes, they often experience a loss of pride as they have to accept the humiliating realities of pandemic life.  Depression and anxiety can be particularly difficult to manage when everyone around you is counting on you to hold things together.  Day-to-day life can be extremely challenging on its own; when loved ones become ill, as so many Americans have, things become exponentially more difficult, particularly if visiting restrictions isolate family members from one another.
Dealing with Stress 
While some people continue to have outlets for their stress and anxiety, others find that the things they used to enjoy and that allowed them to let off a little steam are no longer available to them.  It's tough to play a game of pick-up basketball or attend a yoga class when gyms are closed and people are afraid to socialize.  So stress builds, and eventually things explode on the home front.
Divorce is the Only Option 
If the pandemic has shown you that you'd rather be locked down with anyone but your spouse, perhaps you are considering a split. At the Law Office of Hasson D. Barnes, our Baltimore family lawyers understand the difficulties of marriages and are prepared to guide you through divorce with best possible outcomes for you our top priority.  Schedule a confidential consultation in our office today.
Resource:
jamanetwork.com/journals/jamapediatrics/fullarticle/2782796