Intimate Partner Violence Among Transgender Individuals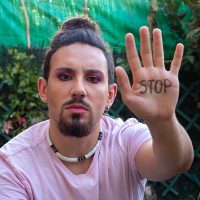 Domestic violence is a monumental public health concern in Maryland, impacting survivors and their families in bewilderingly distressing ways. Behaviors among partners that result in physical, psychological, or sexual harm can cause damage that is profound and ongoing. When this kind of aggression is added to the known safety issues that transgender individuals face outside the home, the mental and emotional price can be unbearable.
Survivors Experiences 
Studies of transgender people and intimate partner violence (IPV) have been limited.  That being said, the research we do have indicates that transphobia is a very real piece of the exploitation involving transgender individuals in their relationships. Extensive interviews with transgender survivors of IPV reveal the following:
They commonly have difficulty identifying abuse;
The focus of IPV involving transgender people is generally based on a person's trans-status;
A key piece of the transgender related domestic violence is forcing isolation;
Community resources are often poorly equipped to tackle their needs;
Transgender people are known to be hesitant to seek help due to their gender status.
Abuse Specific to Trans Individuals 
The emotional beating that transgender individuals sustain in abusive relationships is unique in many ways.  Research identifies certain attacks that are geared to demean and diminish transgender individuals who are on the receiving end of domestic violence:
Abusers intentionally use the wrong pronouns;
The trans person's body is mocked and degraded;
Tools—such as breast enhancers or binders—that individuals use to communicate their gender are destroyed;
Abusers attack the plausibility of a trans person's gender appearance;
Abusers threaten to reveal a trans person's biological gender in embarrassing ways;
The victim is shamed and isolated primarily by focusing on gender characteristics of the person's body.
Community Shortcomings 
To be sure, the fact is that oftentimes transgender survivors of IPV discover that getting help when they most need it is difficult, if not impossible.  Many trans people are afraid that police will be disgusted by them and will refuse to  take their concerns seriously. Shelters are often inaccessible based on antiquated gender rules. In situations when transgender people are allowed into them, they often experience contempt and violence inside.  Survivors are subsequently forced to cast off their identities simply to access a safe location for a few nights.
Improving Resources 
Survivors of domestic violence who happen to be transgender deserve the same protections and resources afforded any other person who's been subjected to IPV. People of all genders and identities should know about support groups, safety planning, shelter options and more. Without question, protecting the most marginalized in our community means stepping up services for everyone and moving forward in the goal of ending violence.
IPV is a Crime 
If you are a transgender person who needs help due to IPV, you should know that the Baltimore family attorneys at The Law Office of Hasson D. Barnes are on your side. You will never experience judgment or ridicule from us.  Our concerned, dedicated attorneys will help you take the legal steps necessary to protect you from undeserved violence, helping you to reassert yourself and claim the life you deserve.  Schedule a confidential consultation in our office today.
Source:
stars.library.ucf.edu/cgi/viewcontent.cgi?article=3536&context=etd