Hurt In A Pedestrian Accident?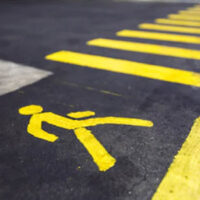 When 66-year-old Kirk Hilton entered a crosswalk on Baltimore Avenue one June morning, he could not have imagined that it would be the last thing he ever did.  A vehicle traveling along the road collided with him, taking his life.  If you or a loved one has suffered serious injury or death in an auto-pedestrian accident, the services of a personal injury/wrongful death attorney may bring some solace.
Pedestrian Accident Data 
The fact of the matter is, pedestrians have a far greater chance of serious chance of experiencing serious injuries or death in a collision for obvious reasons.  In fact, 20 percent of all traffic fatalities in Maryland are pedestrian crashes. The most dangerous areas for pedestrians are in high density areas, such as the DC Metro area, where over 30 percent of incidents occur, and Baltimore, where 60 percent occur.
Too many pedestrians incur serious injuries or death in Maryland every year.  The average number of pedestrian fatalities over a 5-year period is 105. The Maryland Department of Transportation (MDT) reports that 123 pedestrians were killed in fatal accidents in 2019, ten fewer than the 133 deaths in 2018.
The Demographics  
According to the National Highway Traffic Safety Administration (NHTSA),  males are at greater risk of being involved in an auto/pedestrian crash, both as a driver and as a pedestrian.  Fatality rates are highest for older individuals, although children aged 9+ are also at significant risk.
Risk Factors 
A number of factors increase the possibility of auto-pedestrian collisions, including:
Alcohol: Nearly half of these incidents involve alcohol—impaired drivers are implicated in 13 percent of cases, while impaired pedestrians are involved in nearly one-third of incidents;
Electronics: Drivers and pedestrians who are distracted by electronic devices are at a much higher risk of an accident than those who are focused on safety;
Visibility: Darkness and weather conditions, combined with dark clothing, make collisions more likely;
Speed: Higher speeds are connected to pedestrian accidents;
Rolling Stops: Drivers that fail to come to a complete stop often fail to notice pedestrians as they creep out to make a right turn;
Left turns: While drivers keep an eye out for vehicular traffic prior to making a left turn, they sometimes fail to notice pedestrians;
Crossing outside a crosswalk: Pedestrians who fail to use marked crosswalks are at a higher risk of a collision;
Backing up: Pedestrians who fail to take not of activity in driveways are at risk of being backed into.
Legal Recourse 
If you were injured in an accident that was caused because of the inattention, carelessness, or recklessness of a driver and are facing difficult financial and recovery issues, the Law Office of Hasson D. Barnes LLC may be able to help.  Contact our Baltimore personal injury attorneys today to schedule a confidential consultation.
Resources:
localdvm.com/news/i-270/maryland-pedestrian-fatalities-decreased-in-2019-overall-roadway-fatalities-increase/
wmdt.com/2020/06/one-killed-in-overnight-pedestrian-crash-in-ocean-city/
https://www.hbarneslaw.com/loose-loads-are-a-hazard-on-maryland-roads/