Don't Make These Mistakes After Experiencing Personal Injury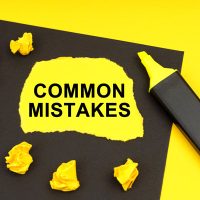 Injuries of any kind can be devastating physically, mentally, and financially.  When those injuries are the result of another party's negligence or outright recklessness, it may be even more difficult to process and deal with. That's why anyone suffering a serious injury under these circumstances should never try going it alone.  Instead, consider a personal injury lawsuit in an attempt to hold others responsible for the decisions and actions that led to your suffering.
Pursue Some Justice 
A personal injury lawsuit can provide financial remuneration to address your medical bills, lost wages, and more.  That, in a way, can also be a form of mental/emotional relief.  Moving forward, be sure to avoid these key errors:
1-    Thinking you can't afford an attorney:  Most of the time, you're just not going to be successful pursuing a case without the help of an experienced personal injury attorney who knows the ropes.  But you're not going to have to come up with money on the front end; cases almost always are handled on a contingency basis with an additional small percentage of the final settlement.
2-    Thinking it will involve a nasty trial:  While some cases may go to court, the majority are settled before things ever get that far.
3-    Miscalculating your losses:  As you accumulate medical bills and contemplate future losses, it can be difficult to determine actual losses.  That's another reason it's very important to have an experienced attorney helping with the calculations.
4-    Missing deadlines:  Personal injury cases have no-nonsense statute of limitations, and if you miss filing dates, you're out of luck.
5-    "Saving" money by avoiding doctors: It may seem counterintuitive, but you need to have medical documentation backing up your claim of injuries. So make the appointments with the specialists you need and keep records of everything.
6-    Working with the insurance company: Never forget that insurance companies are in the business of making money, and they could use what you say to your disadvantage. Talk to your attorney before giving the insurance company anything, from verbal confirmations of what's happened to actual hospital statements.
7-    Misunderstanding contributory negligence: Realize that if you contributed to your accident in any way, it will limit your ability to collect from the other party. In particular, if you deliberately subjected yourself to the potential of an injury, you may be prevented from collecting.
8-    Collecting on pre-existing injuries:  If you had a medical condition that caused you pain prior to your accident, you can bet the insurance company will find out about it and use it against you.  So be sure you make a claim only on injuries directly related to the accident.
9-    Forgetting to consider liens:  Although you may really, really deserve a huge settlement, if the defendant in the case has other liens against them, those must be paid first. It's one more reason to have a knowledgeable personal injury attorney doing the research for you.
Your Advocate 
At the Law Office of Hasson D. Barnes, our Baltimore personal injury attorneys are dedicated to fighting for the best possible outcomes for you.  To discuss your situation, contact us for a confidential consultation today.