Custody Considerations When One Parent Is Unfit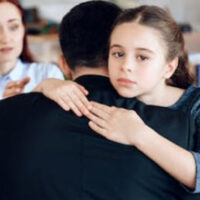 If you are going through a divorce, one of the most important decisions to be made revolves around your children.  With whom will they live?  Who will have legal custody and the ability to make important decisions about medical issues, education, and so forth?  Can you and your former partner collaborate in the best interests of the child, or is your relationship so overwrought that teamwork is out of the question?  Finally, is your ex incapable of parenting altogether?  If so, what are your options going forward?
Custody Determinations 
Under  Maryland law neither parent is automatically granted sole custody of a child. In fact, joint legal custody—the sharing of decisions related to the care and wellbeing of the child—is preferred as the most favorable to the child' mental and emotional growth. Shared physical custody is also considered ideal, when kids spend at least 35 percent of their time with each parent. Unfortunately, it is not always possible due to a number of factors.  In some instances, shared custody—legal and /or physical– is not even desirable.
When is Sole Custody a Better Option? 
When a parent wishes to gain sole custody, it is generally provided only as a last resort.  This occurs if one parent is completely uncooperative, has a history of seriously harmful decisions impacting the child, or has engaged in verbal or emotional abuse that is untenable.  Grave issues that could warrant sole custody include:
Problems with substance abuse that make parenting commitments a secondary consideration for one parent;
Mental health issues that could endanger the child
Past or present instances of domestic violence involving one parent, or someone they are living with that make the home unsafe;
There is a demonstrable reason to believe the other parent will leave with the child.
Demonstrating You are a Good Parent 
In addition to proving that the other parent should not have physical custody or decision- making powers over your child, you will want to demonstrate that you are up to the job of single parenting.  Think about how much time you spend with your child, and the quality of that time. Make sure your home is clean, safe, and appropriate for a child. These are all issues in which the court will take an interest.
Baltimore Child Custody Lawyer Fights on Your Behalf 
If you are looking for an attorney who will represent your issues aggressively and knowledgeably in court, look no further than experienced Baltimore child custody lawyer Hasson D. Barnes.  All disputes are addressed with your interests in mind.  Contact the Law Office of Hasson D. Barnes, LLC for a confidential consultation today.