Construction Site Accidents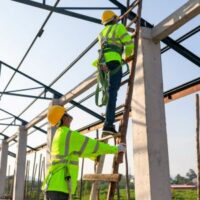 With construction going on everywhere you look, it's not surprising that construction site accidents are on the rise.  One worker in the Fairfield area recently fell into a trench and found himself buried neck deep in the trench. A month before that accident, a wall crushed two workers on a Fells Point construction site.  In another incident, a three-story building collapse injured two workers.  The list of specifics is constant, and involves real people who suffer real injuries.  Why do accidents on construction sites occur so often, what can be done to prevent them, and what recourse do workers have when unsafe conditions put their very lives at risk?
The Fatal Four According to OSHA
The Occupational Safety and Health Administration (OSHA) is charged with providing safety standards and monitoring employer compliance in order to ensure workers have safe and healthy environments in which to work.  When there are accidents involving injuries, OSHA conducts investigations and uses the statistics and data compiled to draft better safety rules.
Fatality data indicate four key areas of concern in terms of construction site fatalities:
The leading type of fatal accident—accounting for four in ten deaths on construction sites—is falls;
Another ten percent of fatalities is related to falling objects striking workers;
Nearly nine percent of fatalities resulted from electrocutions;
Just under ten percent of fatalities occurred when workers found themselves stuck and crushed between heavy machinery or other objects.
Serious Issues Require Focus 
Without question, there are many moving parts on a construction site, with resulting perils.  Injuries related to hazardous wastes, machinery malfunctions, and human error lead to serious outcomes every day.  It is essential for project managers to take every step possible to provide a safe working environment, including:
Requiring that workers are properly trained;
Labeling hazards in all languages spoken on the site;
Maintaining equipment and machinery properly;
Providing proper supervision;
Requiring proper safety equipment usage;
Addressing issues that pop up relating to safety immediately;
Regularly stressing the importance of safety among all crew members.
Failure to follow these and other OSHA rules could result in injuries and/or death.  Employees, too, must show responsibility in their actions and behaviors on the job:
Wear proper footwear at all times, including steel-toed boots with non-slip soles;
Wear a hardhat, goggles, gloves, harnesses, and other safety equipment as needed for the task;
Follow procedures carefully when employing dangerous machinery/equipment or when powering down;
Use the right tool for the job;
Do not attempt to work when overly fatigued or when under the influence of mind-altering substances;
Stay aware and preemptively avoid disaster.
If You Experience a Construction Site Accident 
If you are the victim of a serious accident due to unsafe working conditions, you have more recourse than you might know.  Sure, worker's compensation is available. But that may not cover all of the costs associated with your recovery.  At the Law Office of Hasson D. Barnes, our experienced Baltimore personal injury attorneys are poised to help you get the settlement you deserve.  Contact our office for a confidential consultation today.
Resource:
baltimoresun.com/maryland/baltimore-city/bs-md-ci-construction-worker-fall-20210721-43savnrcvjgnta6awxxhg3gzrm-story.html