Should You Keep Your Divorce Plans To Yourself?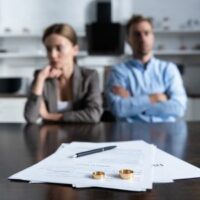 For many people considering divorce, one of the first steps is to discuss the marital problems with one's spouse.  In certain circumstances, however, that may not be a good idea.  A divorce means the two of you will be going separate ways.  That means your goals and aspirations will be vastly different.  Instead of discussing your thoughts with your spouse, perhaps it's a good idea to cultivate a strategy for the coming months.  An experienced local divorce attorney can be extremely helpful with this.
Why Keep Quiet? 
The decisions you make now will have a significant impact on your future—a future your current spouse may not support.  If you are concerned about any of the following issues, it could be dangerous to let your spouse in on your plans too soon:
Violence: If there is a history of domestic violence in your marriage, things could seriously escalate once divorce is on the table.
Financial Deception: Is there a strong possibility your spouse will attempt to hide assets or drain accounts in an effort to deprive you of your fair share in the divorce?  If so, keeping your plans to yourself for as long as possible is the smart move.
Revenge: Is it likely your spouse will attempt to harm your reputation, employment options, or security in some way?  Your attorney can work to mitigate the devastating effects of such actions.
Take Steps to Protect Yourself 
If you know divorce is the right step, it's time to dive in  headfirst.  That doesn't mean you should throw caution to the wind, however.
As you research your options, be sure to clear browser history in case a suspicious spouse is checking up on you. Better yet, use a computer outside the home if possible.
Behave normally and maintain your usual routines.
Try to build up a secret stash to deal with emergency needs.
Explore employment opportunities if you've been out of the job market for a while.
If you are the family breadwinner, start developing a budget plan that includes a portion of your earnings going to your ex.
Investigate living arrangements with an eye toward safety, proximity to work and schools, and other factors of importance to you.
Determine who you can and cannot confide in at this point, and don't stray from trusted confidants.
Get a basic understanding of Maryland divorce law, including facts about equitable property division, child custody, parenting plans, and support.
Trust Us for Straight Talk 
The knowledgeable Baltimore family attorneys at the Law Office of Hasson D. Barnes have experience with many different divorce scenarios and are well prepared to assist with the issues you are facing.  Contact our office to schedule a confidential consultation today.