Parents With Disabilities And The Fight For Custody In Divorce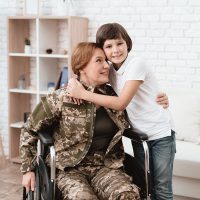 There's no one on the planet who adores and cherishes your kids more than you do.  Every day, you conspire to build their confidence and nurture them to become good, productive, caring little human beings.  But as you face the prospect of divorce, your soon-to-be ex wants full custody, and is focusing on the fact that you have a life-altering disability in order to get it.
The ADA 
Guaranteed protection from discrimination are laid out under The Americans with Disabilities Act (ADA) which seeks to ensure that people with disabilities are able enjoy the same rights and opportunities that are offered to individuals who do not have disabilities. This federal law applies to individuals with disabilities across the U.S. and can have a direct impact on custody cases where a disability is being made an issue. 
Custody is Possible 
Divorcing couples are generally expected to come up with some sort of shared custody and time-sharing plan themselves, requiring the court's stamp of approval before it becomes official.  All too often that's just not possible when couples have serious disputes, so the court is tasked with arbitrating the matter, ultimately basing any decision on what will be in the best interests of the children. Irrespective of what either parent may wish, the kids necessarily come first with the court. Your disability will be one of many factors contemplated, to be sure, but rest assured that the ADA requires that people with disabilities not be denied the prospect of raising their children just because they have a disability.  If the court determines that you are willing and able to care for your kids, there is no reason you won't be able to participate in their lives and share custody like any other parent.
Accommodations can Make a Huge Difference 
Practical accommodations can be provided to individuals with disabilities making a significant difference for them and their families.  Just a few examples of services that the court or other agencies could provide include:
Parenting classes focused on workarounds to obstacles;
Support with transportation;
Adaptive apparatus, i.e., voice-activated phones, talking thermometers, magnetically closing baby clothing, lowered cribs, etc.;
Personal assistants to help with cooking, mobility issues, etc. 
Individualized Treatment 
The court has to consider the possibility that a disability has the potential to impact your ability to effectively parent. If the children would be in danger as a result of your inability to care for them, the court may find that it is unwise for a disabled parent to be alone with their own children.  Nonetheless, the principle of individualized treatment requires that each person's situation be weighed on its own merits. Modifications in one setting may have significant impact on an individual's ability to navigate the challenges of parenting, greatly influencing the court, despite a parallel situation having a different result. Simply put, the court cannot make decisions based on stereotypical notions about disabilities if an individual can prove that they can effectively parent, even if that means they need a little help. In some circumstances, the court may need to be versed in adaptive parenting techniques that empower those with disabilities to perform parenting tasks with either human or technological assistance.  Certainly, a parenting assessment should be conducted by a competent individual who is well-informed about parenting with disabilities and who can help the court to understand just how effective appropriate interventions for parents with disabilities can be.
Advocating for Disabled Parents 
If you are feeling at a disadvantage in a custody battle due to a disability, know that the Baltimore family attorneys at The Law Office of Hasson D. Barnes will advocate in order to achieve a fair outcome for you and your children. To discuss, schedule a confidential consultation in our Baltimore office today.
Source:
ada.gov/topics/parental-rights/