Not Sure If Divorce Is For You?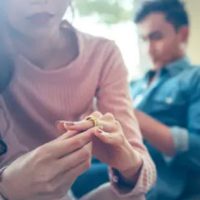 Anyone who's contemplated divorce but couldn't decide with certainty whether it was the right path or not is certainly less than happy with their marriage.  But divorce is a humongous, generally final step, and it's often difficult to know if or when it's the right time to move forward with it, especially if there's been no horrendous, soul-killing event to trigger it.  Sometimes people are just unhappy.  If you are wondering if your marriage is in a long, boring slump, or if it's just a temporary (albeit lengthy) lull, don't be too hard on yourself. Instead, take steps to figure out the best path forward.
1-    Without question, if violence is an issue in your marriage, get out before things escalate.
2-    Stash some cash.  If you go forward with a divorce, you may really need it.
3-    If abuse isn't an issue, take a hard look at your marriage. Is it worth fighting for?  Is there still love glowering deep down there somewhere? Is the happiness you're looking for right in front of you, or do you have to say goodbye in order to truly be satisfied?
4-    Weigh your own role in the breakdown of the marriage.  Have you demonstrated real commitment, or have you been holding back?  Do you have such conflicted emotions you don't know what you really want? How can you deal with your own issues, aside from those involving your partner?
5-    Examine your options.  Maybe taking a mini break would benefit your marriage.  Perhaps couple's counseling would be a healthy alternative.  Even having a serious talk about any discontent in the marriage at your kitchen table could lead to making some changes, if it's worth the effort to you.
6-    If you decide you really want to give your marriage another shot, jump in with both feet.  Communicate, commit, and don't look back.
7-    If you realize that divorce is the best route for you, devise a plan for next steps, while acknowledging that there will be some tough days ahead. How will you bring this up with your spouse?  How will you break the news to your kids? Your family and friends? What will you ask for? Who will represent you?
8-    Face your fears.  Come up with a tentative plan to address the things that worry you most following divorce, and be prepared for surprises—both pleasant and not so much—along the way.
9-    Plan for the inevitable impacts on your children.  Be present to address their needs as best you can.  Encourage a connection with their other parent, and protect them from any disagreements that pop up between the adults.
10- Research the divorce laws in the state of Maryland and prepare a list of questions to present to your local divorce attorney.  Make sure you understand your rights and responsibilities.
11- Be practical. Consider finances, the possibility of moving, and how your daily life will change when you don't have a partner around. Do you know how to manage the bills and monthly budget? What happens if the babysitter cancels on a school day? You'd be surprised at the number of items that will spring up unexpectedly and require you to think on your feet.
12- Collect the financial documents you'll need—bank statements, check stubs, mortgage and loan documentation and so forth.
13- Be nice—to both yourself and to your soon-to-be ex.
When it's Time
When the time is right, the experienced Baltimore family attorneys at The Law Office of Hasson D. Barnes are here to help.  We always strive to achieve the best possible outcomes for you.  Schedule a confidential consultation in our Baltimore office today.
Source:
nytimes.com/2017/05/18/fashion/weddings/11-questions-to-ask-before-getting-a-divorce.html