Mediation to Navigate your Divorce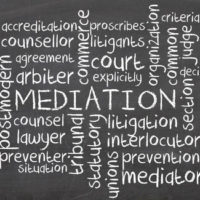 If you are ready to end your marriage, you have some difficult decisions and complicated maneuvers ahead. One thing that might make it easier is to have an experienced mediator facilitate the split. The truth is, there are many advantages to mediation.
A Productive Environment 
If you have a difficult relationship with your spouse—and maybe especially if things are contentious—having a mediator to keep the discussion on track can be very comforting. It really does make a difference when there's someone in the room focused on fair, rational outcomes for both parties.
Mediators Have Mutual Positive Outcomes as Goals 
Your mediator understands that the marriage is ending. Splitting assets may require the assistance of real estate appraisers, tax attorneys, accountants or other experts, and they are all welcome in the proceedings. The ultimate goal is to have both parties walk away feeling satisfied with the outcome.
Children are not used as Bargaining Tools 
Ugly divorces in a courtroom tend to put children in the middle of competing goals. With mediation, parents are helped to understand that their behavior really does have a big impact on the kids. Instead of bickering over the children, both parties work together to develop a parenting plan that benefits the entire family. They learn valuable communication strategies that make parenting a healthier, more sustainable enterprise. The research behind mediation indicates that parents who buy into the process actually have better relationships with children over the long-run than those who don't.
Mediation is not for Everyone 
For some couples, going straight to divorce without the benefit of mediators is a smarter choice. Situations where mediation would not be recommended include:
If domestic violence was a problem in the relationship;
If you believe your spouse is trying to cheat you by hiding assets;
If one or both parties suffer with substance abuse.
What to Expect in Mediation 
If you're looking for a less acrimonious way to proceed through a divorce, mediation may be just the thing for you. A series of meetings—maybe four to ten, depending on the complexity of the issues—will give you the opportunity to discuss everything from support and custody to the division of assets and debt. Another bonus: proceedings are private.
At the Law Office of Hasson D. Barnes. LLC, we have seen how successful mediation can be. Resolving disputes with grace and dignity is possible for you, too. If you are intrigued by the option of mediation, contact us in Baltimore for a confidential consultation.
Resources:
huffingtonpost.com/joanne-naiman/divorce-mediation-myths_b_831334.html
lifehacker.com/8-signs-you-should-skip-mediation-and-head-straight-for-1796452292