Injured In A Motorcycle Accident?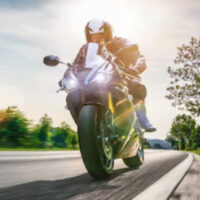 A Sunday afternoon motorcycle ride ended in tragedy when decorated Staff Sergeant Aubrey Mitsch of the Maryland National Guard was killed in October 2020. Mitsch's motorcycle was struck by a vehicle that was changing lanes on I-95 in Delaware.  The driver of the vehicle merged into traffic and did not see Mitsch on her Honda CBR 600.   Mitsch was ejected from her bike and pronounced dead at nearby Christian Hospital.  This is just one more case of motorcyclists suffering at the hands of drivers who fail to see them on the road.  If you or a loved one has been injured or killed in a motorcycle accident, it may behoove you to speak to an experienced local personal injury attorney.
The Violence of Motorcycle Collisions 
Crashing on a motorcycle is a significantly violent event, resulting in injuries or fatalities in four out of five crashes.  Certainly, the fact that the vehicle itself provides no protection is the logical explanation behind this startling fact.  Clearly, the lack of crashworthiness—no roof, seatbelts, airbags, and door beams—put motorcyclists at significant risk in the event of a collision. And collisions are more likely with motorcycles because they are less visible on the road. As in Mitsch's situation, motorcyclists are often hurtled from their motorcycles in a collision, putting them at risk of forcibly colliding with the ground or other objects after a crash.
Visibility 
Due to the inherent safety limitations of motorcycles, riders simply must be prepared to drive defensively.  Roughly one-third of multi-vehicle motorcycle crashes occur when other drivers turn into the pathway of an oncoming motorcycle.  Others are the result of lane changes that occur when motorcyclists are unseen. Increasing visibility by keeping headlights on at all times and wearing reflective or bright clothing is on step that can improve visibility.
Taking Steps to Stay Safe on the Road
Mitigating accidents should be job one of anyone who gets on a motorcycle.  We know that motorcyclists are a whopping 27 times more likely to be killed in an accident than other drivers, so there is a long way to go in reducing fatalities.
According to the National Highway Traffic Safety Administration, there are a number of things motorcyclists can do to prevent accidents, or to reduce the severity of injuries when collisions do occur. For example, bikers should always be particularly cautious when approaching intersections, and be cognizant or drivers that may be turning.  More than drivers of passenger vehicles, they need to anticipate and predict what other drivers are doing.  During inclement weather, they need to be particularly cautious.  Without question, they should wear protective gear such as a helmet, eye protection, gloves, and other safety clothing.
In the Aftermath of a Motorcycle Accident 
When victims and their families are faced with the medical bills associated with a motorcycle crash, it can be overwhelming.  This, combined with lost wages, can feel paralyzing.  But there is no need to face these problems on your own.  At the Law Office of Hasson D. Barnes, we can help.  To see what we can do for you, contact our Baltimore personal injury attorneys today.
Resources:
baltimore.cbslocal.com/2020/10/21/maryland-national-guard-mourning-the-loss-of-staff-sgt-aubrey-n-mitsch-who-was-killed-in-motorcycle-crash-on-i-95/
one.nhtsa.gov/people/injury/pedbimot/motorcycle/safebike/anatomy.html