Financial Recovery From Maryland Bicycle Accidents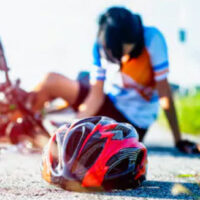 A morning bicycle commute ended in death for a woman who was struck by a right-turning garbage truck at a crosswalk in Montgomery County in January 2022.  A man suffered a similar fate in April 2021 after a Dodge Dart collided with him on Paper Mill Road, leading to lethal injuries. A 32-year-old man suffered a slightly better outcome after a collision in St. Georges County in September 2021.  That cyclist went to the hospital with critical injuries after being struck by a car—but at least he survived.  These are just a handful of senseless and heart wrenching auto-bicycle accidents that resulted in serious outcomes for the cyclists. If you or a loved one has suffered a similar fate, a hard-hitting local personal injury attorney can help you move forward.
Sobering Statistics
There are a lot of bicyclists on the roads in Maryland.  Some ride for pleasure, others for fitness reasons, and still others commute out of necessity on their bikes. But of the thousands of riders out there on two wheels, nearly 900 are involved in accidents that result in serious injury each year, and another dozen lose their lives. Because cyclists have relatively no protections when up against 2,000-4,000 pounds of steel and rubber, 80 percent of collisions with a motor vehicle result in injuries to the cyclist.
Playing it Safe 
If you are one of the many people who choose to ride a bike on the road, be smart and wear a properly fitting helmet, reflective clothing at night, and make sure your ride is equipped with good brakes, well maintained tires, and lights if you ride after dark.  Follow the rules of the road, and don't take chances, especially in intersections. 
Motorist Responsibility 
Without question, motorists can and must do better.  They absolutely must acknowledge the fact that they are sharing the road with more and more bicycles, and actively take steps to mitigate the dangers.
Yield: Make a habit of giving cyclists the right of way, with a commitment to providing a safe ride for every rider;
Prepare for the worst: Assume that an upright cyclist could blow a tire or flame out in a patch of gravel at any moment. Make room on the road so that your vehicle doesn't add to the seriousness of the incident;
Turn cautiously: Never roll through a stop sign or red light, and use caution while making any turns, staying alert for any possible bicyclists;
Watch for kids: Kids on a bike are famous for darting out into roads without giving a second thought to traffic—so drivers have to be the ones taking special care in neighborhoods, near schools, and anywhere else children may be riding.
When Accidents Occur 
After a serious accident, you may be so focused on recovering physically and emotionally that you don't even think about collecting damages to address your medical bills, lost wages, and more.  That's what your proficient and experienced Baltimore bicycle accident attorney at the Law Office of Hasson D. Barnes can take care of.  Give our office a call today.
Resources:
mva.maryland.gov/Documents/FY19_Bicycle_ProgramAreaBriefFINAL.pdf
baltimore.cbslocal.com/2021/04/28/police-bicyclist-struck-killed-on-paper-mill-road-in-baltimore-county/
wtop.com/montgomery-county/2022/01/cyclist-dies-after-being-struck-by-trash-truck-in-gaithersburg/