Divorce Trauma: Who Gets The Dog?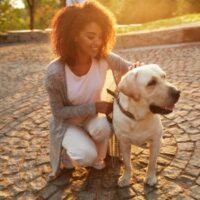 If you've decided that divorce is the right move for you, you've likely already thought about the upcoming property division.  You get the golf clubs, your spouse gets the four-wheeler; you get the Chrysler, your spouse gets the Jeep.  But often one of the most difficult decisions revolves around who gets the family pet.  You consider the pooch an extension of yourself—virtually a child.  Leaving him behind is unthinkable!  What do Maryland courts have to say about this touchy subject?
It's More Than Just a Dog 
If you're attached to your pet, you're not alone.  In a survey by the  American Academy of Matrimonial Lawyers (AAML) roughly one in three divorce attorneys have noted that clients are more and more frequently entering divorce battles with their pets as a primary concern. In nine out of ten cases, the issue centers on the family dog, although other animals have been the focus of the battle—including cats, horses, a 150 pound turtle, an African parrot, and a python!
In some circumstances, one individual attempts to manipulate another by making the pet a bargaining chip in divorce.  They believe they can get the upper hand in the property settlement by fighting over a pet they really don't care much about.  Other times, both of the "pet parents" truly adore a family pet, and neither can bear the idea of giving up custody entirely.  They may decide on a joint custody arrangement, like Joseph and Formosa, both of whom had a tremendous attachment to their pet. Joseph said it was the worst feeling in the world to imagine life without the dog, and Formosa complained that it was devastating to imagine life without it.  The situation was resolved by giving each of them six months with the pet.  That case, reported in Reuters, didn't occur here in Maryland.  So what can you expect going forward?
A Property Issue 
Maryland courts view pets just like any other property, regardless of whether or not those getting divorced have greater attachments to their dog than to their kitchen table. In an equitable distribution state like Maryland, it can be hard to predict how much weight a judge will put on your affection for the pet as opposed to the pet's economic value. That being said, it's possible for a creative divorce attorney to put forth an argument that a pet is better off living with you than with your soon-to-be ex.  You could potentially make a case that you've provided the majority of the pet's care, that you have the healthiest set-up for the pet, that your children are attached to the pet, or that the pet was not marital property.
Fighting With Your Concerns in Mind 
At the Law Office of Hasson D. Barnes, our Baltimore divorce lawyers pride ourselves on listening to clients to get direction as to how to proceed in any divorce case. The things that are your top priorities become our top priorities.  If one of those issues is the family pet, rest assured we will put every effort into obtaining the outcomes you're hoping for.  To discuss your situation, schedule a confidential consultation in our office today.
Resources:
stltoday.com/lifestyles/pets/who-gets-the-dog-in-a-divorce/article_43797fdd-9906-5843-a5d0-ff576d72e300.html
aaha.org/publications/newstat/articles/2014-02/survey-of-matrimonial-lawyers-shows-steady-increase-of-pet-custody-disputes/